Bayer and Sprint Honored at 2020 AdExchanger Awards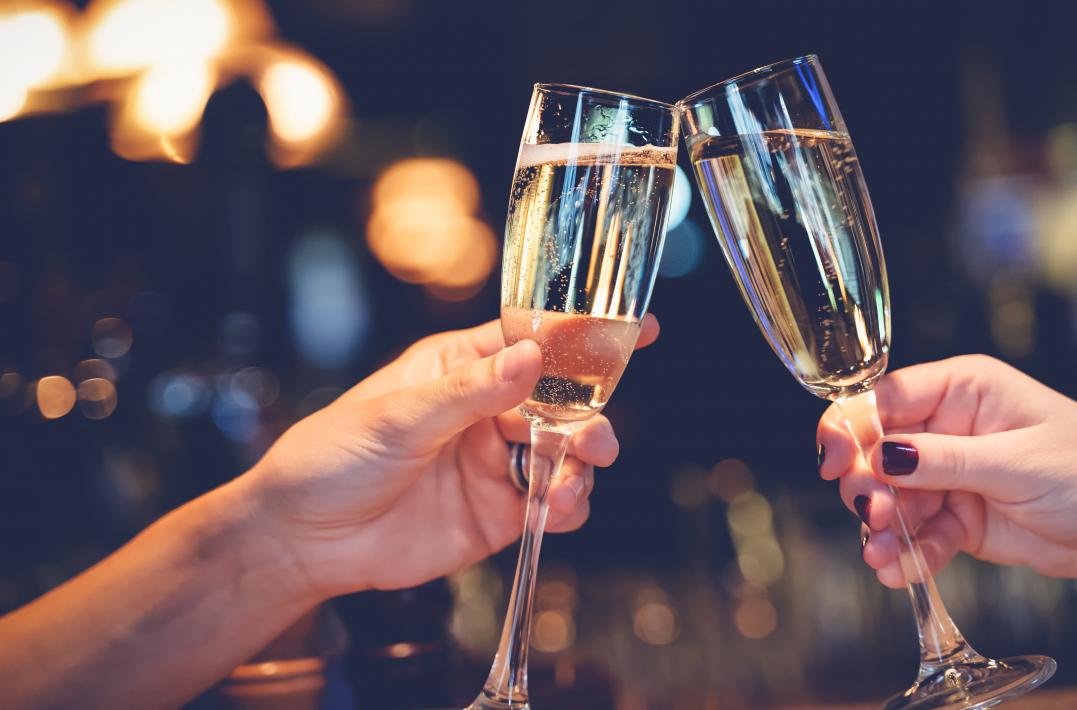 Two MightyHive Clients Recognized for In-Housing Execution
MightyHive is thrilled to congratulate our fantastic clients, Bayer and Sprint, who were both honored in the category of "Best In-House Media Operation" at the recent 2020 AdExchanger Awards. MightyHive proudly partnered with both companies to help design and build their in-house media operations, resulting in improved flexibility, control, and efficiency.
Each year, a community of leading marketers, publishers, technology platforms, and service providers collectively identify the companies and individuals making the largest positive impact on marketing and ad tech. This year's results are in: Bayer was selected as the Best In-House Media Operation winner. Additionally, in the same category, Sprint was selected as one of just a handful of finalists.
Bayer's Path to Self Sufficiency
Two years ago, Bayer decided it would bring its digital media planning, buying, and media analytics in-house in order to increase performance through data ownership, media efficiency, and transparency. Ultimately, Bayer's goal was to make digital expertise the cultural norm and use data analytics to inform decision-making and optimization throughout the entire organization.
In 2018, MightyHive assumed interim management of the pharma giant's digital campaigns and technologies across 15 brands while Bayer tapped MightyHive's digital expertise to set processes and frameworks for efficiency at scale. MightyHive also assisted Bayer with sourcing talent and implementing a staggered transition to plan provide support as Bayer worked towards self-sufficiency.
Our two-year vision is truly taking shape through cost-savings, better informed decision-making, and quicker go-to-market strategies. MightyHive helped make this vision a reality by bringing us closer to our data, eliminating unnecessary fees and costs, and building a blueprint for Bayer to bring many of our media planning and buying functions in-house.

- Josh Palau, VP Media Strategy & Platforms, Bayer
As Bayer took operations in-house, the company experienced a 35% increase in media effectiveness. And after just ten months, the in-house model allowed Bayer to increase working media, targeted impressions, category reach, and ultimately ROI. By the end of 2020, Bayer's in house media team will operate as a wholly independent and self-sufficient team. 
In-Housing Brings Double-Digit
Efficiency Gains to Bayer
(click to read the full case study)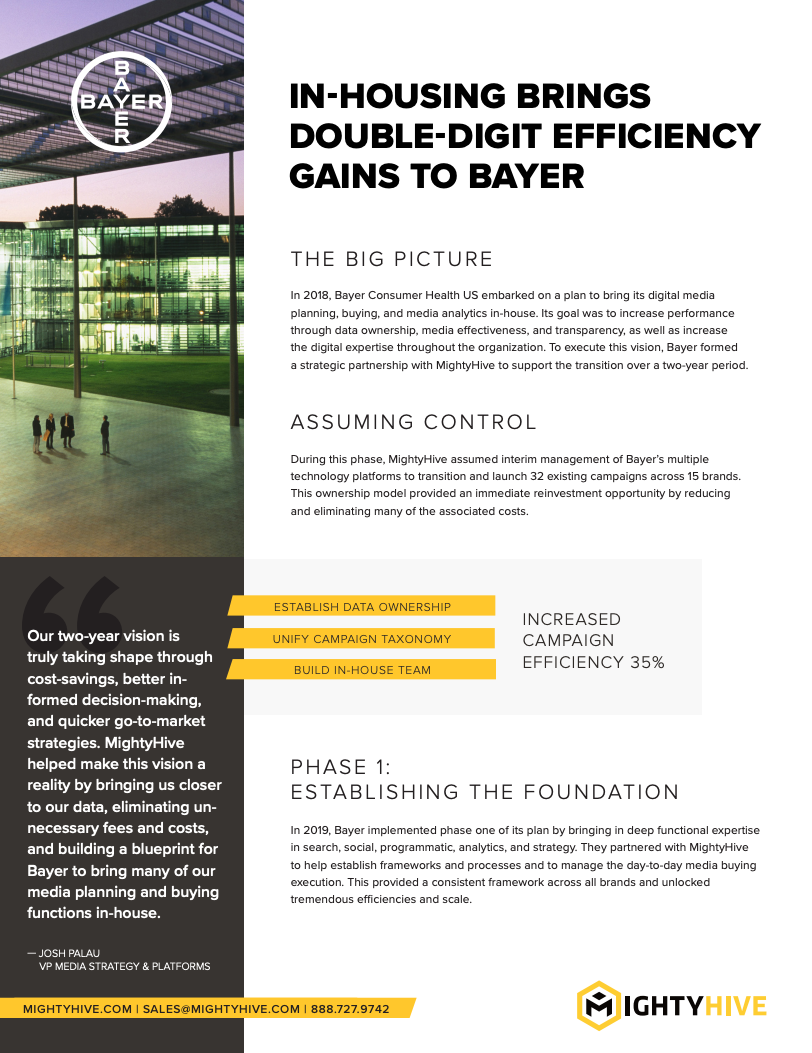 Sprint: Paving the Path to Control
For Sprint it was all about achieving exponential performance improvement. To do this, the telecom giant made transparency, minimizing ad fraud, multi-touch attribution, and first-party data control top priorities. MightyHive helped Sprint gather new insights gained from data analytics and its vast collection of first party data. Sprint adapted its programmatic media strategy to better align with actual customer behavior instead of a predefined standard media approach. This realigned digital strategy, along with a best in class in-house team, resulted in exponential performance improvement.
MightyHive's deep programmatic expertise and advisory capabilities made them an easy choice. They've helped us gain the control, insights, and flexibility to be able to better meet the needs of our customers and our business as a whole. Our partnership has been instrumental to Sprint's digital transformation and has far exceeded our expectations.

- Rob Roy, Chief Digital Officer, Sprint
MightyHive Helps Sprint
Shine a Light and Take Control
(click to read the full case study)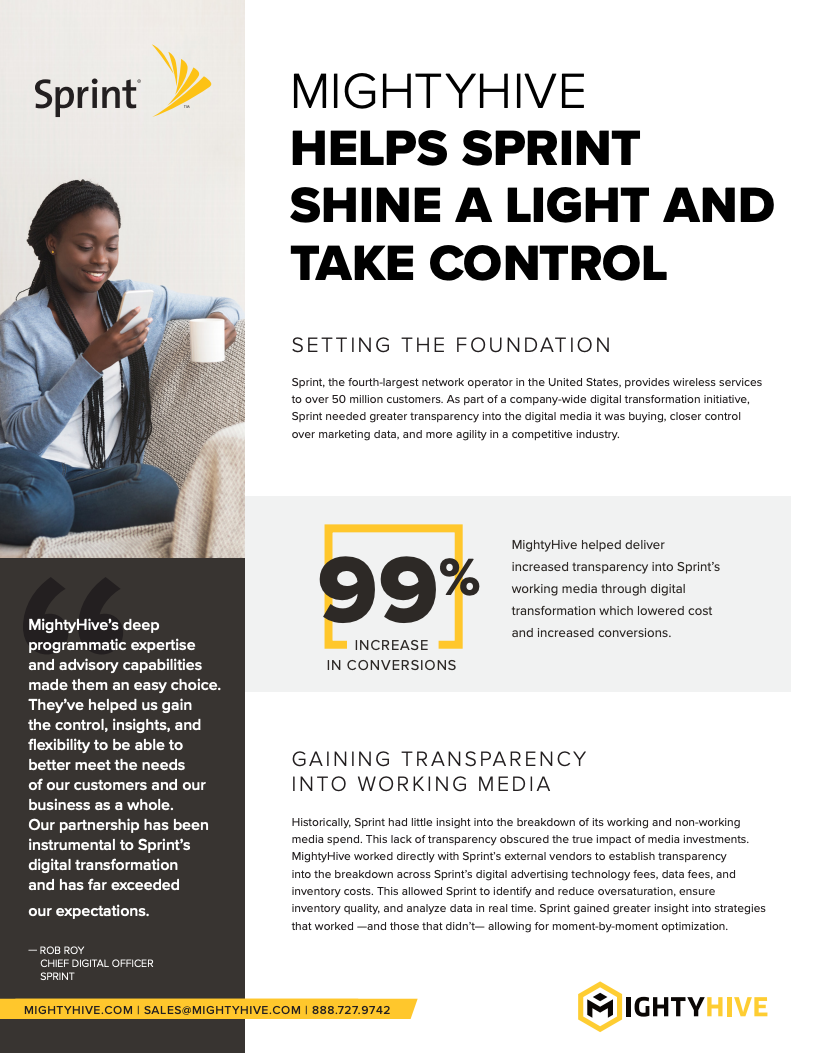 MightHive congratulates both of our great clients and we look forward to more successful collaborations in the future.
To learn more about in-housing, please contact questions@mightyhive.com.
CONTACT MIGHTYHIVE
/contact-us
888-727-9742
394 Pacific Avenue, Floor 5
San Francisco, CA 94111