Event: Attribution Solutions - How to be a Hero when Attribution Models Fall Short
Let's Play the Attribution Game
Attribution is an integral component of any successful marketing plan. It's crucial to understand what's working (and what's not), and continuously optimize based on data-driven learnings. As we find more reliable ways to understand what impact a given channel had on producing a conversion, marketers are moving away from last click and fractional models that only tell part of the story. But what happens when even multi-touch attribution doesn't cut it? And how can brands form a more complete attribution picture between digital and offline channels?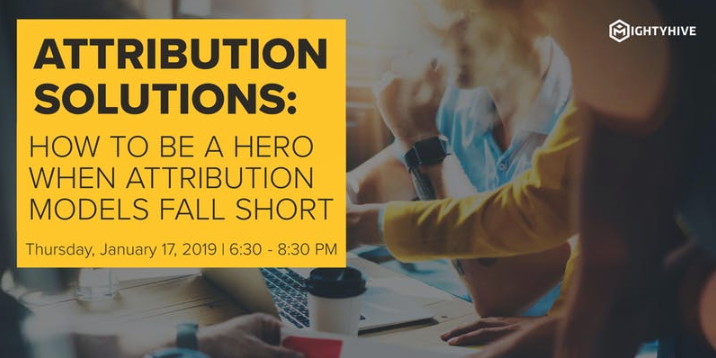 Join Us!
RSVP here to join MightyHive subject matter experts for a timely conversation about how to bridge gaps left by even robust attribution models. We'll discuss tracking limitations, how to tackle walled gardens, and new tactics for quantifying success across disparate metrics. You'll come away with actionable insights that will make you an attribution hero.
Plus, complimentary pizza, cocktails, and gifts will be provided.
Where: MightyHive New York, 43 W. 24th Street, 6th Floor (between 5th and 6th)
When: Thursday, January 17, 6:30-8:30pm
Dress Code: Casual. Wear your networking pants. Bring your business cards. Don't be shy!
You: An inquisitive mind. An experienced, hands-on-keyboard ad tech enthusiast. Someone interested in connecting with others to geek out about new technology over pizza and drinks instead of binging on Netflix after work.
Us: MightyHive is a new breed of media consultancy that partners with global brands and agencies seeking transformative marketing results in a time of significant disruption. We provide consulting and services in advanced marketing and advertising technologies, media operations, training, data strategy, and analytics. And we're hiring, big time.
Whether you're looking for your next career move, you want to expand your skillset, or you just like to chat with like-minded industry folks, we hope you'll stop by.
CONTACT MIGHTYHIVE
/contact-us
888-727-9742
394 Pacific Avenue, Floor 5
San Francisco, CA 94111