The Fusion of Creative, Media, and Technology
Watch "The Fusion of Creative, Media, and Technology" (page opens in a new window)
At AdExchanger's Programmatic I/O in San Francisco, MightyHive CEO Pete Kim took the stage to discuss the need for advertisers to adopt a unitary approach to their creative, media, and tech. Advertisers who fail to do so risk missing crucial opportunities to hold meaningful conversations with today's ultra-savvy consumer.
Got Creative?
Jeff Goodby, Co-Chairman and Partner, Goodby Silverstein & Partners, implied in a 2018 AdWeek Op-Ed that technology debases creativity in advertising. Goodby suggests that using data and tech to inform programmatic media buys amounts to nothing more than "targeting and tonnage," eliminating good creative altogether. He asserts that this model produces an expensive and ineffective structure for advertisers, and an unpleasant experience for consumers.
In his Programmatic I/O talk, however, Pete paints a very different picture of how data and tech actually work together to elevate creative. In fact, Pete says, not only does this model yield more relevant, dynamic creative, but it does so at scale and in a constant optimization loop, so it always gets better.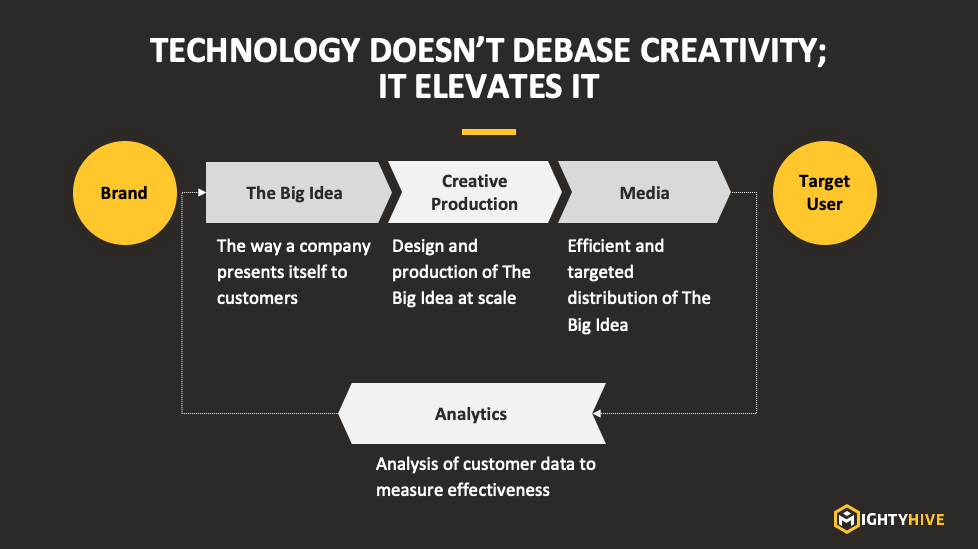 The Big Idea
While there has been an undeniable sea change in the industry leading to major digital disruption, one thing hasn't changed: great advertising still requires "the big idea." But the machinations behind producing and disseminating creative to consumers continues to evolve.
"We believe that technology doesn't debase creativity; if used correctly, it elevates it. We are all really different people... that's why personalization is necessary."

- Pete Kim, CEO, MightyHive
In the past, technological limitations required advertisers to generate one message, and "broadly cast" it to all consumers. Now, it's possible to personalize creative and target consumers based on their demographics, preferences, and other criteria. In addition, we're able to create, test, and iterate upon these creatives in near real-time.
Personalization is the New Table Stakes
For the first time in history, consumers can watch, read, and listen to anything they want at any given time. This new on-demand, cross-screen culture has raised the bar for advertisers to meet the quality of the entertainment their content is interrupting. Unfortunately for advertisers, this expectation for perfection and relevance across all media means that consumer sentiment around advertising has never been lower--and a one size fits all approach is unacceptable.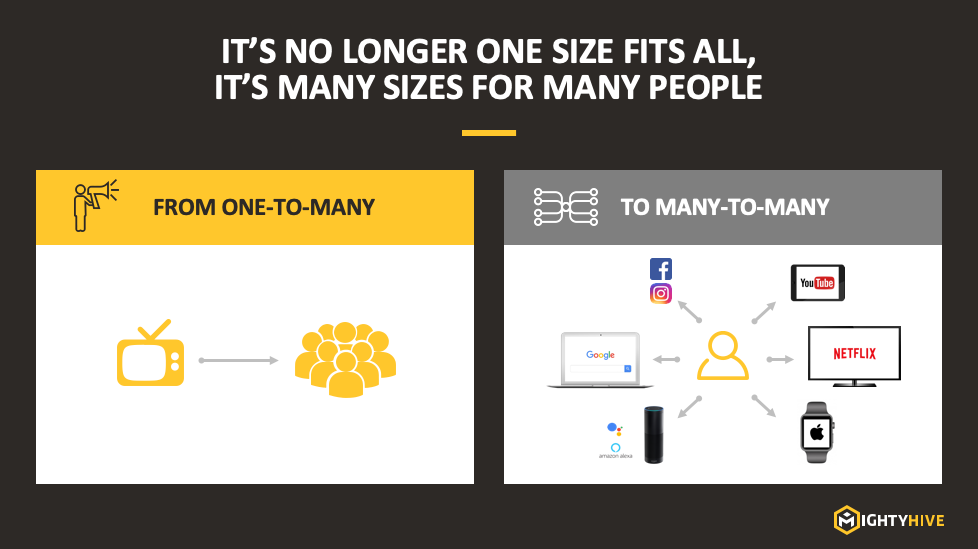 The Battle of the Good Idea
On creative teams past, there was a "gladiatorial" fight to determine which big idea actually got produced and saw the light of day. That one idea then became the basis for a static, inflexible campaign lasting weeks, or even months (in some cases years!). Now, Pete says, marketers are no longer "locked into" one creative (e.g., one commercial, one print ad, one radio ad) that gets produced and is written in stone until the campaign's end. Granular targeting and creative optimization capabilities give advertisers the iterative flexibility to deliver the right message to the right consumer, on an ongoing basis.
What's Next?
Because this creative, data, and technology loop is relatively new, we are just at the beginning of recognizing its true power. According to Pete, the next change is a mindset shift to catch up to our newfound technological capabilities. In addition to learning how best to leverage dynamic creative optimization and programmatic tools, we need to adapt our mindsets to suit the new ways consumers interact with media.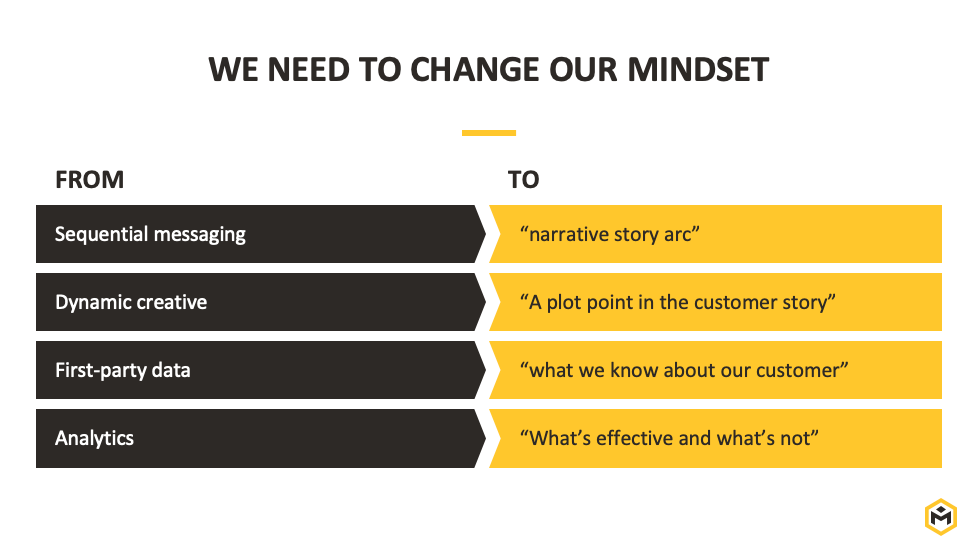 Better, Faster, Cheaper
In order for advertisers to get their story across in a way that resonates, it's crucial to move away from giant, costly campaigns once or twice a year to a constant conversation model. Dynamic creative and programmatic technology allows advertisers to have not just one, but millions of simultaneous, personalized conversations in real time.
"If you are only updating your campaigns a few times a year, it's like having a conversation with somebody who always says the wrong thing, and takes months before they respond to what you just said."

- Pete Kim, CEO, MightyHive
Watch Pete Kim's full "The Fusion of Creative, Media, and Technology" session for further insights about unleashing creativity at scale.  
CONTACT MIGHTYHIVE
/contact-us
888-727-9742
394 Pacific Avenue, Floor 5
San Francisco, CA 94111