Case Study: MightyHive Helps Sprint Shine a Light and Take Control
MightyHive's deep programmatic expertise and advisory capabilities made them an easy choice. They've helped us gain the control, insights, and flexibility to be able to better meet the needs of our customers and our business as a whole. Our partnership has been instrumental to Sprint's digital transformation and has far exceeded our expectations.

- Rob Roy, Chief Digital Officer, Sprint
Digital Transformation in the Big Leagues
Sprint, the fourth-largest network operator in the United States, provides wireless services to over 50 million customers. As part of a massive digital transformation initiative, Sprint sought to uncover and eliminate superfluous fees, consolidate and control its data, and analyze and optimize its media investments for maximum results. Sprint turned to MightyHive to help reveal the true impact of its media investments, reducing overall ad spend while still increasing working media.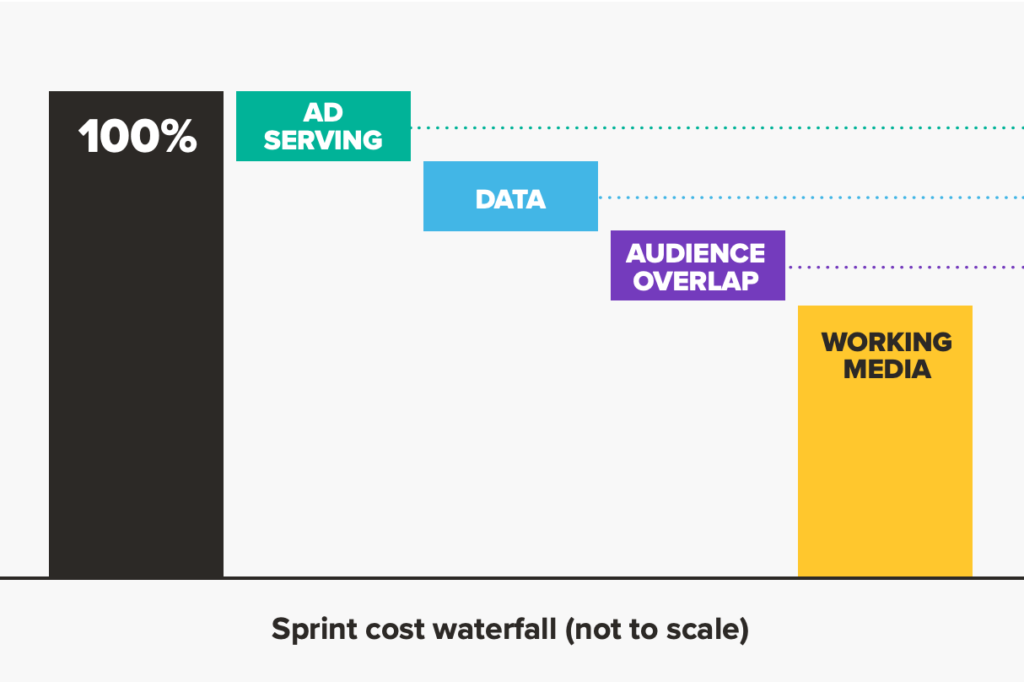 Efficiency is Key
Before Sprint was able to more effectively activate its enormous wealth of customer data, it was crucial to establish transparency into the breakdown across Sprint's digital advertising technology fees, data fees, and inventory costs. MightyHive worked directly with Sprint's external vendors to identify opportunities to decrease tech and data fees and eliminate waste from audience over-saturation. These efficiencies allowed Sprint to reduce overall ad spend while still increasing working media.
On Your Mark, Get Set, Go!
With transparent service models and media spend in place, Sprint was ready to run with its wealth of marketing data. MightyHive oversaw the consolidation of disparate data sources into in-house data lakes, allowing for significantly more granular segmentation and targeted programmatic campaigns. Sprint's newfound laser focus on precise and meaningful audience segmentation helped Sprint realize increased efficiencies in its programmatic media spend and stronger campaign performance.

And Then? Optimize, Optimize, Optimize.
MightyHive's approach to digital transformation yielded major results for Sprint, giving them more control over a newly transparent, efficient, and optimized media buying process. But Sprint didn't stop there. In order to further capitalize on its new toolsets, they moved away from last-touch attribution to build a multi-touch attribution model. MightyHive then built a custom reporting solution that delivers real-time marketing data. Using these tools, the Sprint team can adjust its spend in real time to address the needs of different customer segments.
The team of digital experts at MightyHive can help you take control, too. Please contact us to learn more.
MightyHive Helps Sprint
Shine a Light and Take Control
(click to read the full case study)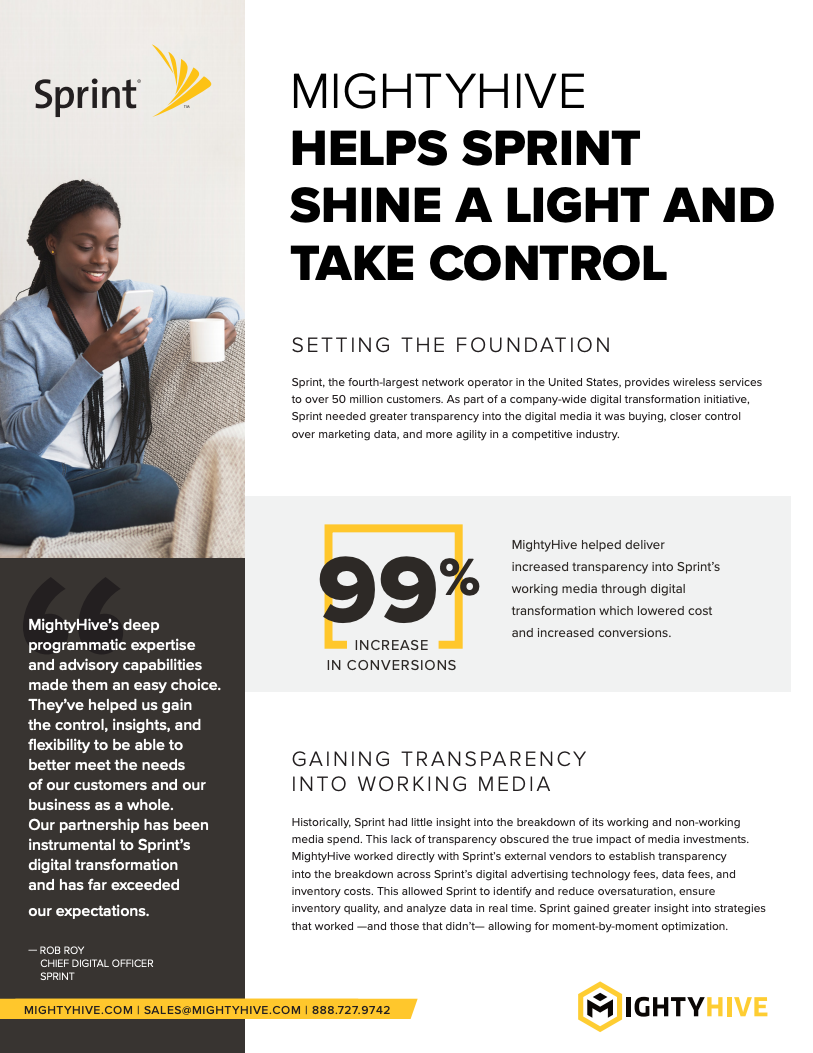 CONTACT MIGHTYHIVE
/contact-us
888-727-9742
394 Pacific Avenue, Floor 5
San Francisco, CA 94111