Video: Five Factors to Consider When Going In-House
At AdExchanger's Programmatic I/O in New York, MightyHive CEO Pete Kim took the stage to offer guidance to marketers looking to go in-house. His presentation addressed five factors marketers should consider when evaluating where they fall on the Spectrum of Control---a framework for in-housing---along with actionable next steps.
A Fundamental Shift
Pete highlights the fundamental shift that we are seeing in consumer viewership and media consumption habits where attention is a commodity:
"Consumers today can watch anything they want, listen to anything they want, read anything they want, consume any media that they want, at the touch of a button. Perfectly integrated, perfectly synchronized across every device that they own."

- Pete Kim, CEO, MightyHive
As Pete attests, consumers expect more out of their screen time and by extension, their ads. This presents new challenges for advertisers who are battling low consumer sentiment around ads in general.
In order to create more meaningful, personalized, targeted ads that meet rising consumer expectations, advertisers must be smarter about how they deploy their vast amounts of data. This requires enhanced and unified control over media planning, data, and analytics. For many companies, however, bringing everything in-house is neither  a realistic or necessary solution.
Control is Not Binary
Most brands feel that in-housing is an all-or-nothing insurmountable hurdle, but Pete proposes that there is no one-size-fits-all solution. Rather, there are various levels of control advertisers can have for in-housing to accommodate their available resources and technical expertise.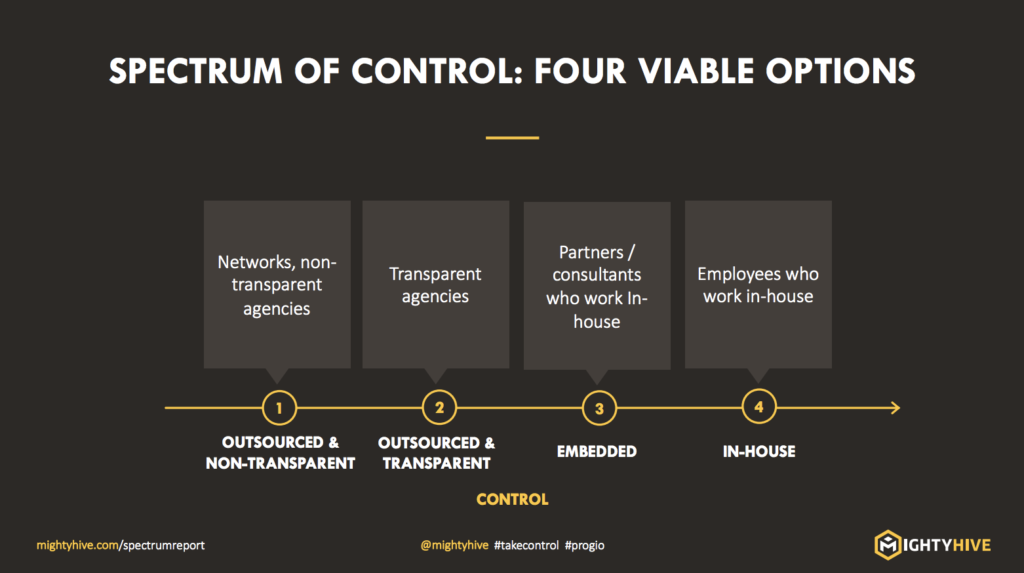 These options range on a sliding scale from completely outsourced, which gives advertisers little transparency but also requires fewer brand resources, to fully in-housed, which offers full control but requires deep technical expertise or training and headcount resources.
Five Factors to Consider When Going In-House
Next, Pete introduces five points marketers must consider to assess where they belong on the Spectrum of Control: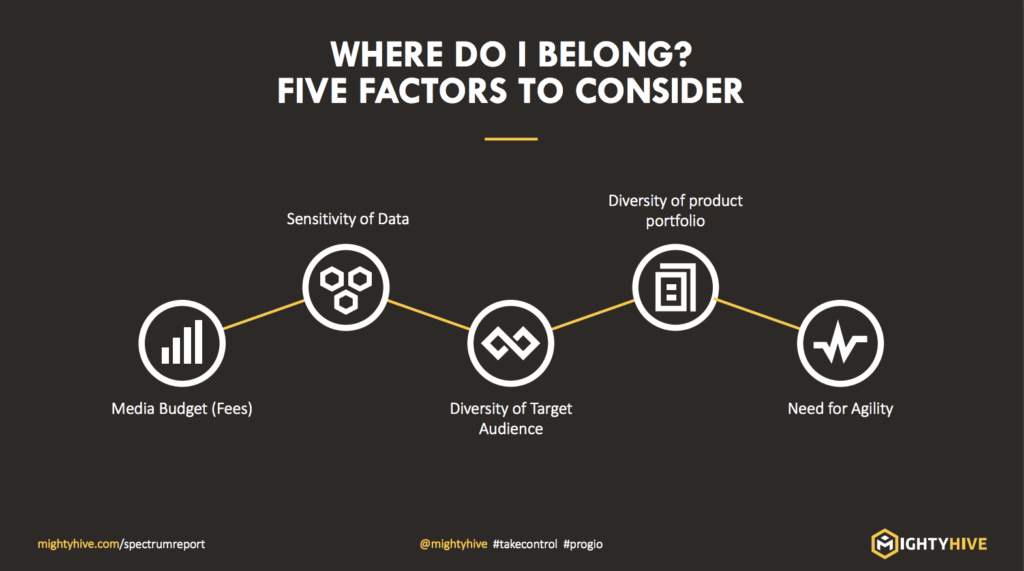 Depending on the combination of factors that apply to a specific advertiser, this framework is how marketers can determine the right combination of in-housing and outsourcing for their brand.
Where to Start
Pete then provides a tangible roadmap for marketers once they have evaluated where they fall on the Spectrum of Control.
"When done correctly, this can well and truly revolutionize our industry, address many of the huge issues we face every day, and ultimately will help the businesses that will win tomorrow figure out how to talk to their customers today."

- Pete Kim, CEO, MightyHive
CONTACT MIGHTYHIVE
/contact-us
888-727-9742
394 Pacific Avenue, Floor 5
San Francisco, CA 94111