WEBINAR: 'Mastering Creative Effectiveness'—A Roundtable with Google, MediaMonks, and MightyHive
Mastering Creative Effectiveness
On September 16, Live With MightyHive featured a conversation on Creative Effectiveness. Joining me in this episode were Ryan Tetuan, Head of Creative Solutions, Media Platforms at Google and Louise Martens, Global Head of Embedded Production at MediaMonks. The discussion was interesting and offers viewers some actionable tips on where to get started.
What does Creative Effectiveness mean?
"Does the work, work? Are our efforts paying off? Are we hitting the goals that we set out together with brands?"
- Louise Martens, Global Head of Embedded Production, MediaMonks
It didn't take long for us to dive into an in-depth discussion about what Creative Effectiveness really means. We went on to highlight the greatest opportunities for brands and provided recommendations on how to get started with creative. Above all, collaboration is key to your team's success.
How can creative and media buying work better together?
"As we are testing new tactics, what new creative ideas can we put out there? Hey, we just did this new research on the creative side and we now understand what consumers are responding to - Can we actually target that micro-moment using the targeting capabilities of DSP?"
- Mitchell Pok, Director, Creative Services & Technology, MightyHive
According to a recent study conducted by Google and Bain, creative is 1.5x more effective when developed collaboratively than it is when it's created in separate silos. Nielsen states that 56% of a campaign's performance is due to creative. The research shows that mastering Creative Effectiveness can drive meaningful results for your campaigns and broader business goals.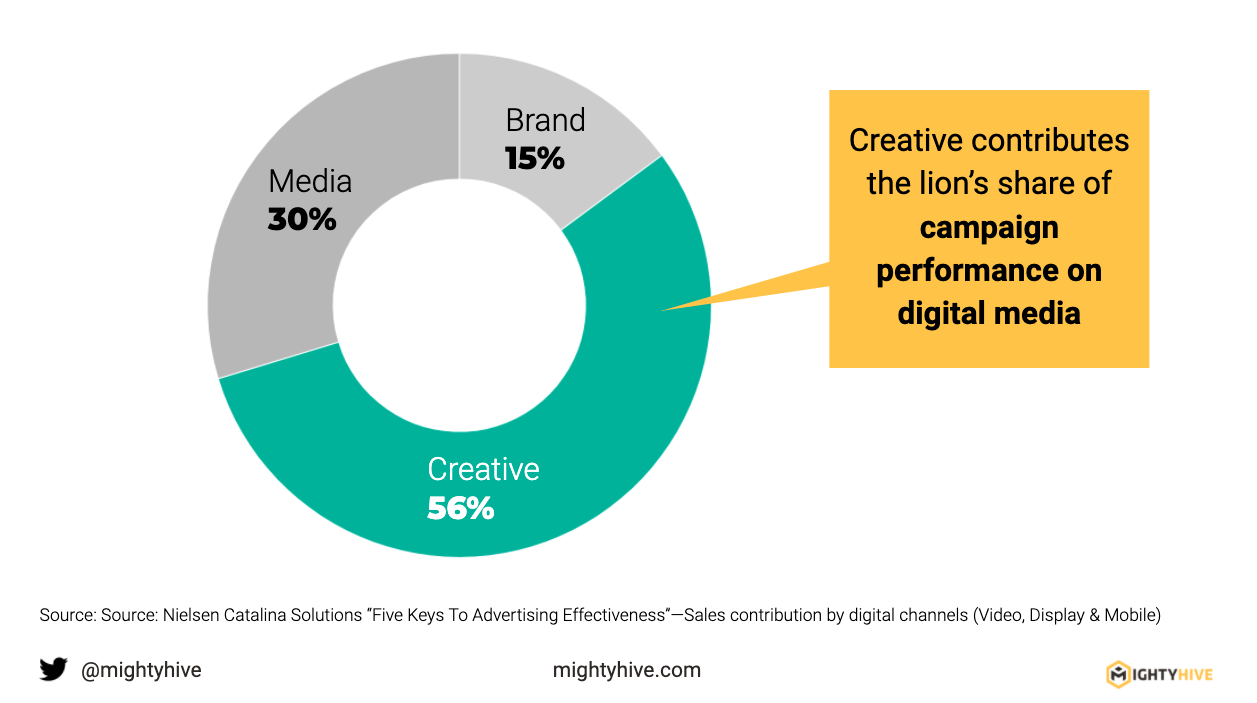 In this episode, we also identified various roadblocks we see across the brands we know. These roadblocks range from the briefing process to the democratization of campaign performance data.
What's standing in the way of Creative Effectiveness?
"I had media teams within 20 yards of me. There weren't any physical walls and my interaction with the media team was essentially an email from them with an Excel spreadsheet of sizes of ads to build. That's it. No audience, no contextual data."
- Ryan Tetuan, Head of Creative Solutions, Media Platforms, Google
Check out the video to join the discussion and find ways you can start mastering Creative Effectiveness today. To view the Google Marketing Platform Solutions Guides, click here.
Please don't hesitate to contact us with any questions.
CONTACT MIGHTYHIVE
/contact-us
888-727-9742
394 Pacific Avenue, Floor 5
San Francisco, CA 94111