Amazon DSP: Quietly Taking Programmatic By Storm
Amazon's appeal to advertisers is a no-brainer.Over 75% of consumers say they shop on Amazon most of the time. Just by visiting Amazon.com, a site dedicated solely to shopping, a consumer has expressed purchase intent.
Amazon is Paradise for Shoppers and Advertisers Alike
Amazon DSP, now wrapped under the "Amazon Advertising" brand, is a powerful tool for marketers, providing access to Amazon's robust first-party data. Amazon DSP unlocks Amazon's highly coveted Owned and Operated inventory that, when coupled with exclusive intent behavior segments and an impressive attribution feature, positions it as a key component of any programmatic strategy.
Amazon DSP: Modest Powerhouse
Amazon describes its DSP as a "demand-side platform that enables advertisers to programmatically buy display and video ads." While that's a high-level idea of the platform's capabilities, it doesn't convey the full power of the tools it offers to advertisers. Amazon DSP allows advertisers to spread their spend and creative across varying formats and inventory sources, making it the preferred DSP for a staggering 41% of marketers, according to a survey conducted by Advertiser Perceptions. Let's look at what makes Amazon DSP unique within a highly competitive programmatic marketplace:
Exclusive Audience Access
As audience lists are limited to Amazon's owned DSP, targeting capabilities are the platform's largest distinguishing benefit. Due to the sheer volume of sales occurring on Amazon among a vast customer base, access to Amazon shoppers provides advertisers with granular, high-intent segments most likely to become purchasers. To highlight the specificity of potential audiences, let's take a look at some examples. Our personal favorites are "Green Baby," "Hot Tubs," and  "Tom Hanks Fans":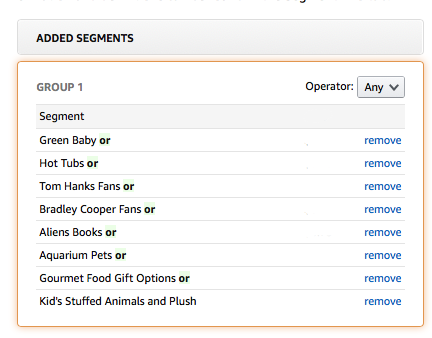 In addition to utilizing Amazon audience segments, advertisers have the ability to upload their first-party data through approved vendors. A recent product feature allows lookalike audiences to be broken into even smaller segments based on most similar vs. most scale.


Unique, High-Quality Inventory
Amazon DSP allows advertisers to buy across all of the major exchanges. However, Amazon DSP has set itself apart with its robust connected TV offerings (hello, Alexa devices and Fire Sticks!), along with Owned and Operated (O&O) properties and Amazon Publisher Services. This allows for better Amazon user recognition through high-visibility impressions:
Connected TV Offerings: Using unskippable full-screen ads and hyper-granular audience targeting, Amazon has given advertisers the powerful one-two combo of relevant ads and a rapt audience. Additionally, due to Amazon's emphasis on streaming devices and Prime video content, we can reliably expect inventory and viewer base to grow.
Amazon Publisher Services: A rapidly expanding subset of publishing available within the platform aimed to place advertisers higher in the waterfall and provide direct deals with high quality publishers. We encourage you to check out

this site

to stay up to date on the current offerings of APS.
Amazon Owned and Operated Properties: In another power move, Amazon App and Web inventory is only accessible via Amazon DSP. While we've seen that these placements tend to have lower viewability due to the nature of product page layouts, advertisers can benefit from pixel-based retargeting, product remarketing, and brand halo remarketing -- all powerful opportunities to build brand awareness and move potential customers down the funnel.
The Best is Yet to Come
As Amazon DSP expands, advertisers can expect exciting optimizations and increased capabilities from the platform. In addition to its rapid accumulation of first-party data, growing by the day as shoppers shop, Amazon's international growth will also unlock new opportunities to reach consumers who are most likely to convert with the right message at the right time.>
CONTACT MIGHTYHIVE
/contact-us
888-727-9742
394 Pacific Avenue, Floor 5
San Francisco, CA 94111