Five Ways MightyHive is Building Workplace Culture During COVID-19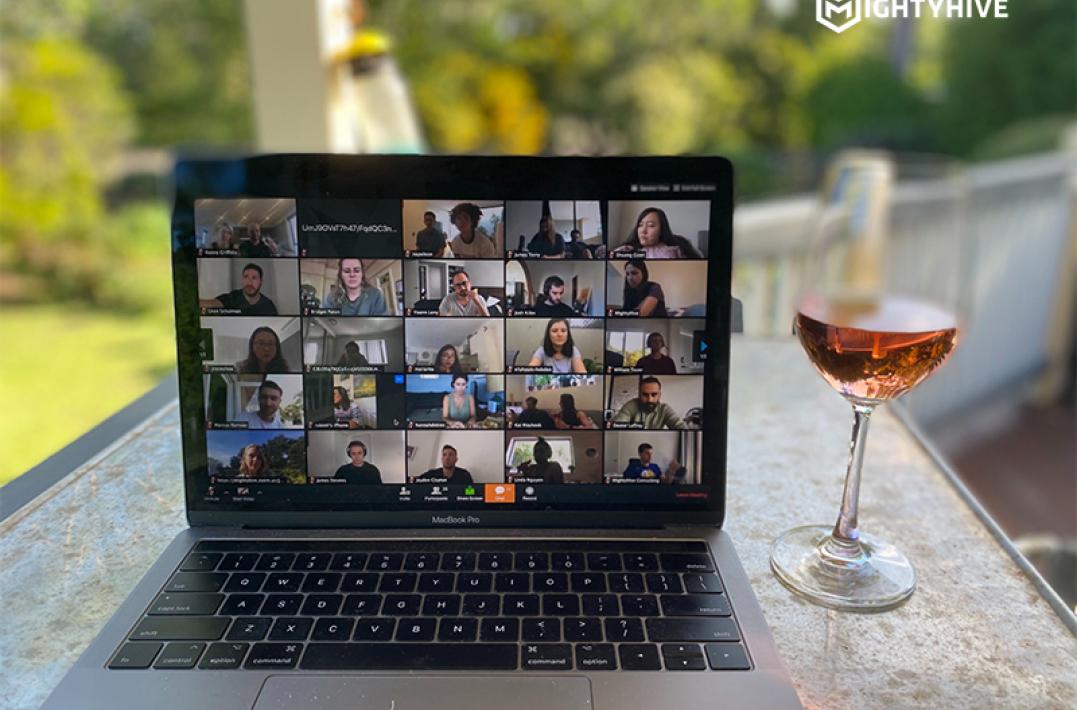 MightyHive's culture is instrumental to our success as a company, and a typical day in the MightyHive office is buzzing with energy. Throughout the day you'll find MightyHivers engaging in all kinds of conversations, and we've built a culture that encourages this kind of collaboration. We believe the more opportunities employees have to engage with each other, the more likely they are to learn from one another and continue to build their expertise and connections.
COVID-19 has been an unexpected visitor, and fundamentally shifted the way we work in 2020. As a company, we are practicing ways to maintain an energized company culture virtually and we've found a few key solutions for maintaining our culture.
Host Virtual Social Events
While we are practicing social distancing, it's more important than ever to stay connected and engage with one another. We've substituted virtual happy hours, team lunches, and workouts for our standard in-person events. Our Sydney office was even more creative and hosted a virtual wine tasting! Additionally, we've taken our coffee buddies program completely virtual, allowing our global teams to connect at random with other MightyHivers for coffee and a chat.
While we may not be physically together, using video has allowed us to stay closer than ever. Some teams say they've spent more time with one another over virtual lunch than they were able to when working in the office. Setting aside intentional time to connect has been critical to MightyHive's continued success.
Encourage Productivity Hacks
The majority of our company works from an office, and the transition to WFH life required significant adaptation. To help employees stay focused we provided a productivity stipend to improve our employees' WFH office set-up.
We also had some fun and asked our team to add songs to a collaborative WFH Spotify playlist to provide a productivity soundtrack similar to our daily office playlist.
Since we do have some seasoned WFH employees, we asked them to share their productivity hacks, which turned into a dedicated #WFHack Slack channel. In addition to offering a more flexible work schedule, our team also created the #WorkingParentHacks channel for our MightyParents who are navigating childcare and education while trying to balance their own work.
Leverage Communication Platforms
We've found that one of the best ways to keep company culture alive is leveraging our different communication platforms. We rely on Gmail and Mailchimp for more formal messaging, but Slack has become instrumental to keeping our team engaged.
Our Slack channels went silent for the first few days of WFH, since we were facing so much uncertainty. However, we learned that it was best to carry on with employee engagement virtually to create a sense of normalcy. We've since used Slack to post pictures of WFH setups, share baby photos of employees, and post a series of fun, screen-free weekend projects.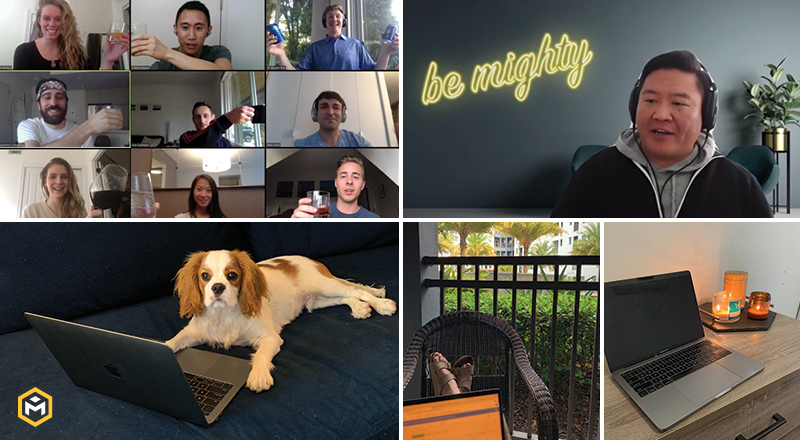 These activities engaged employees from all different departments and are a great conversation starter when getting to know another team member. It also allows us to connect our global teams around activities we can share together.
Share Resources and Recommendations
Using our quarterly wellness program, our People Ops team provided a ton of resources on Mental Health in response to COVID-19 and social distancing measures.
The newsletter features at-home workouts, journaling prompts, meditation practices, and tips for consuming news in a healthy way. One of our teams even shared an existing spreadsheet containing all of their recommendations (books, movies, games, recipes, and more!) and opened it up as a collaborative resource for the whole company.
Our goal is to help give our employees access to the resources they need to adapt to our new environment and know that they have their MightyFam for support.
Celebrate Your Employees
Long before COVID-19, MightyHive made it a point to celebrate our employees. Every employee is celebrated in multiple ways throughout the year for both professional and personal life events.
We have continued celebrating our employees by hosting virtual onboarding sessions, sending ecards to employees on their birthday, and announcing other exciting news in a monthly newsletter.
We have always been excited to highlight the accomplishments of employees, and we feel it's crucial to continue celebrating our employees during this period.
Navigating a completely virtual world can be difficult, but we are adjusting to the current normal. We've not only maintained our global culture, but have watched it grow as our global teams connect more than ever. Change is nothing new to MightyHive, and we continue to learn and adapt during this uncertain time--we may even come out even stronger for it.
CONTACT MIGHTYHIVE
/contact-us
888-727-9742
394 Pacific Avenue, Floor 5
San Francisco, CA 94111