Harvard Business School Publishes "In-housing Digital Marketing at Sprint Corp."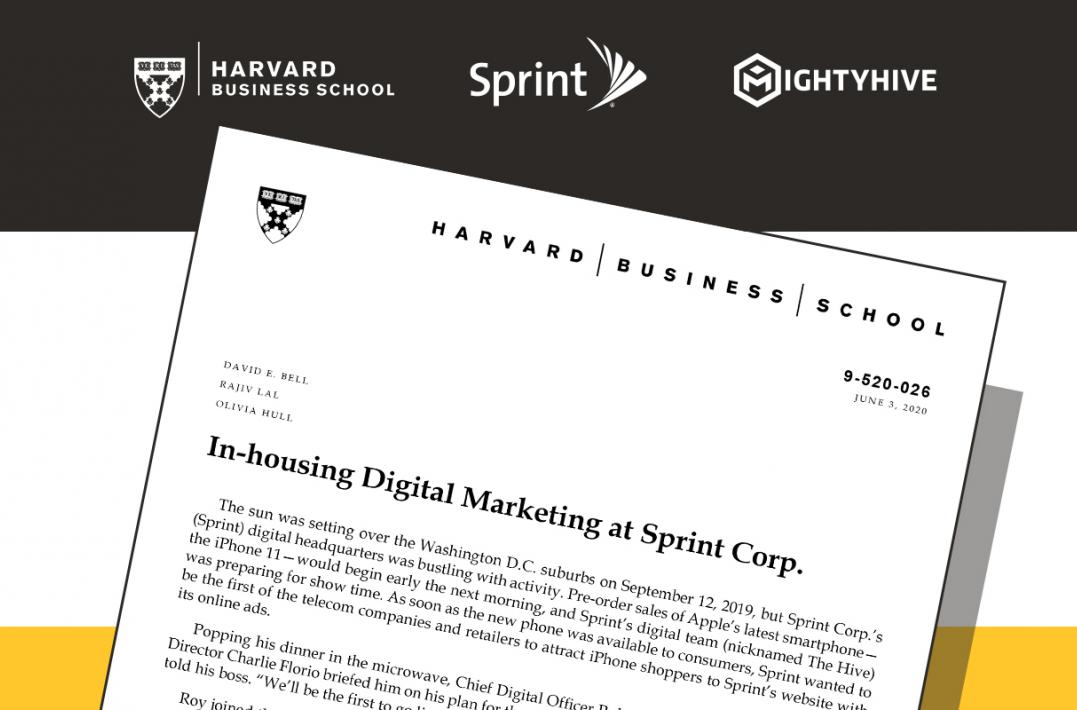 As a company that lives on the leading edge of digital media, the MightyHive ethos has been to train our own. With fast and frequent innovation it's difficult to build educational material that can keep up. That said, digital transformation has been a buzzword for several years, and it's a topic that keeps business leaders in all industries up at night. COVID-19 revealed the stark contrasts between businesses that have advanced their digital transformation efforts and those that have not.
MightyHive and Sprint had the privilege of working with Harvard Business School and Professors David Bell and Rajiv Lal to create a case study on Sprint's digital transformation efforts over the past 3 years. The company's leadership knew that more consumers would be interacting with the brand online--and expecting more from those interactions. A major component of the transformation strategy was bringing digital media planning and buying in-house. MightyHive was honored to help Rob Roy, Charlie Florio, Andrew Ronnfeldt, and the rest of the Sprint digital team in achieving this objective.
It was a bold vision that was not without its risks. The Sprint team was confident that being closer to their marketing data and execution would help them win in an extremely competitive telecom space, but there were few examples of other companies having made such a change.
MightyHive worked hand-in-hand with the team to manage the transition from their external agency and to refine their digital program. We helped identify new KPIs and measurement models, found ways to reduce waste, and created an audience framework that attracted higher-quality traffic. With performance wins in hand, we helped Sprint in the next phase of the journey, assisting in the design of their team structure, candidate profiles, and training new team members.
In all, Sprint saved $6 million in costs annually that would have gone to an external agency, savings that were reinvested into working media. This drove a substantive increase in sales through their digital channels.
We are humbled to have had the opportunity to work with the faculty at the world's leading educational institution, the Sprint digital team, and to have our work included in the curriculum for future business leaders.
You can read more about Sprint's story by purchasing a copy from Harvard Business Review or by reaching out to sales@mightyhive.com.
CONTACT MIGHTYHIVE
/contact-us
888-727-9742
394 Pacific Avenue, Floor 5
San Francisco, CA 94111