MightyHive Now Dual-certified Across Google Marketing Platform and Google Cloud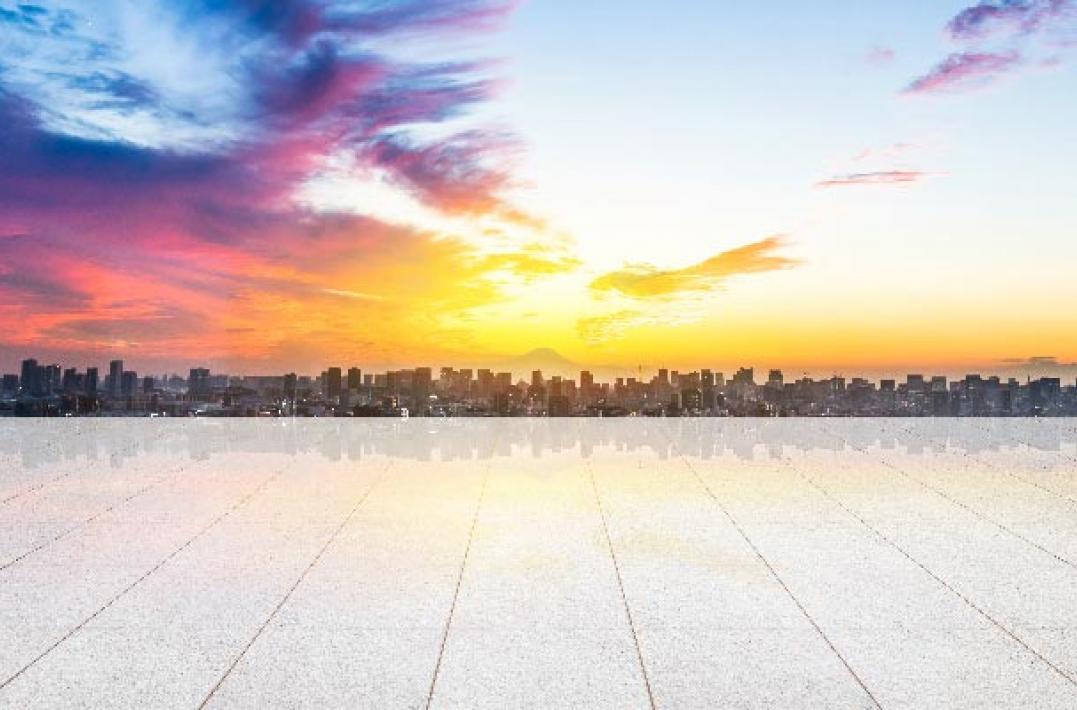 Expanded capabilities for tomorrow's marketing challenges
MightyHive recently became certified as a Google Cloud Platform Partner. This certification marks an exciting new chapter in our evolution as a company and allows us to bring powerful new solutions to brands.

MightyHive has been a Google Marketing Platform Partner since 2012. The advertising industry and the needs of marketers have changed considerably since then. As the scope of programmatic advertising has evolved from siloed point solutions to unified marketing & advertising stacks to enterprise systems integrations, MightyHive has evolved as well.
Our recent certification as a Google Cloud Platform Partner allows us to provide a range of services and solutions that encompass the full breadth of technology and data that today's advertisers must bring together in order to succeed.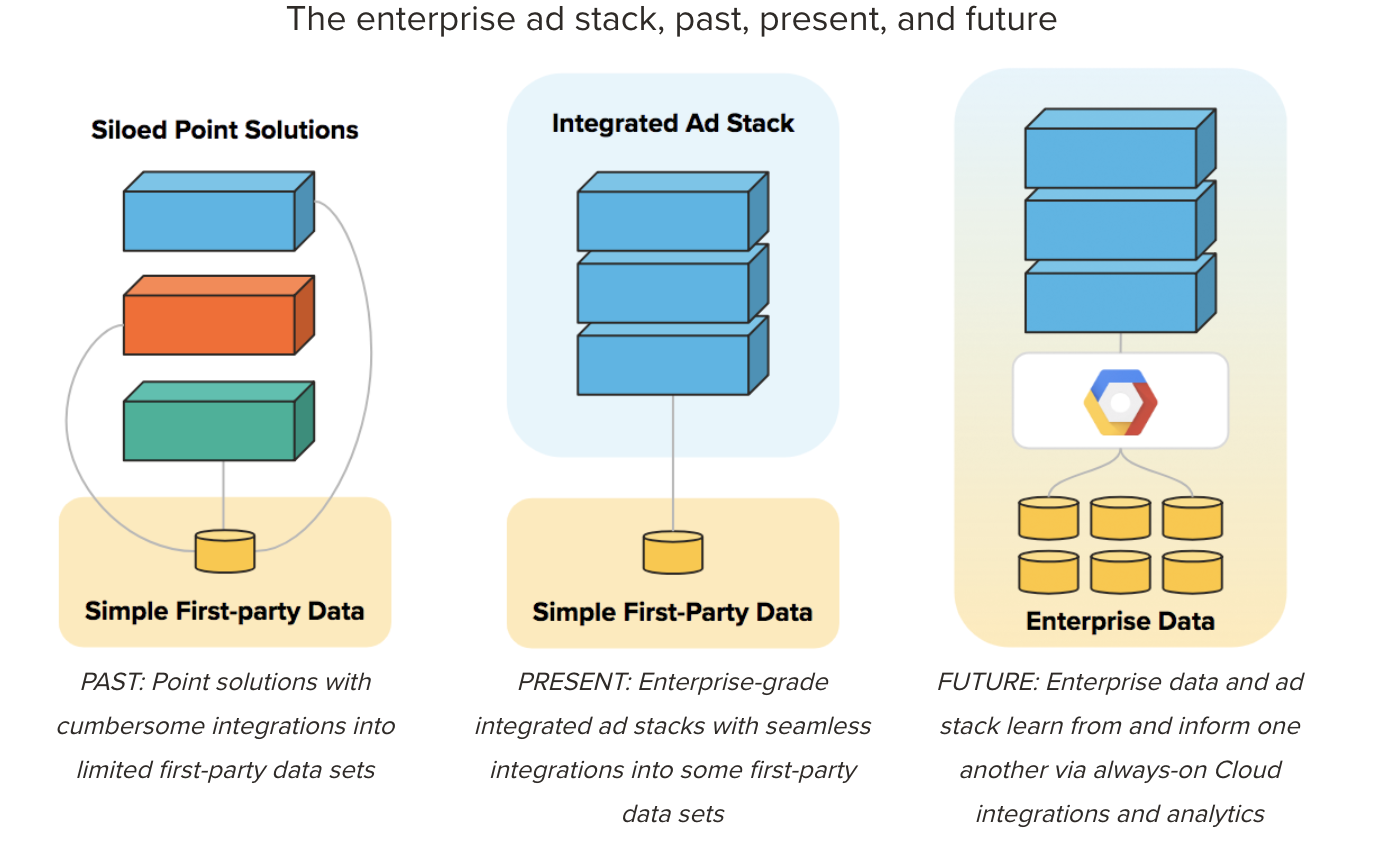 Cloud-based solutions are becoming critical to marketer success
MightyHive has seen brands amass digital advertising data in two key areas: within their own first-party systems (e.g., CRM, site analytics, offline data) and within digital advertising platforms (e.g., Google Marketing Platform, Facebook). There are dramatic advantages that can be unlocked when these terabyte-scale data sets can inform and learn from one another.
A few out-of-the-box integrations already exist between data, analytics, and media activation, such as those between Google Analytics 360 and Display & Video 360, Google Marketing Platform and BigQuery, or between Google Analytics 360 and Salesforce. However, even these powerful platform integrations don't fully address the needs of advanced marketers. Every brand has unique data sets, unique insights, and unique KPIs—all key ingredients of competitive differentiation and successful advertising.
Given this environment of complexity and often staggering scale, Google Cloud Platform plays a dual role:
First, as a powerful piece of "workhorse" infrastructure that can bridge the gap between brands' technology and data sets residing both within and outside the enterprise.
Second, as a flexible toolset for developing bespoke solutions and models that truly unlock the wealth of insights many brands have amassed about their customers and their campaigns.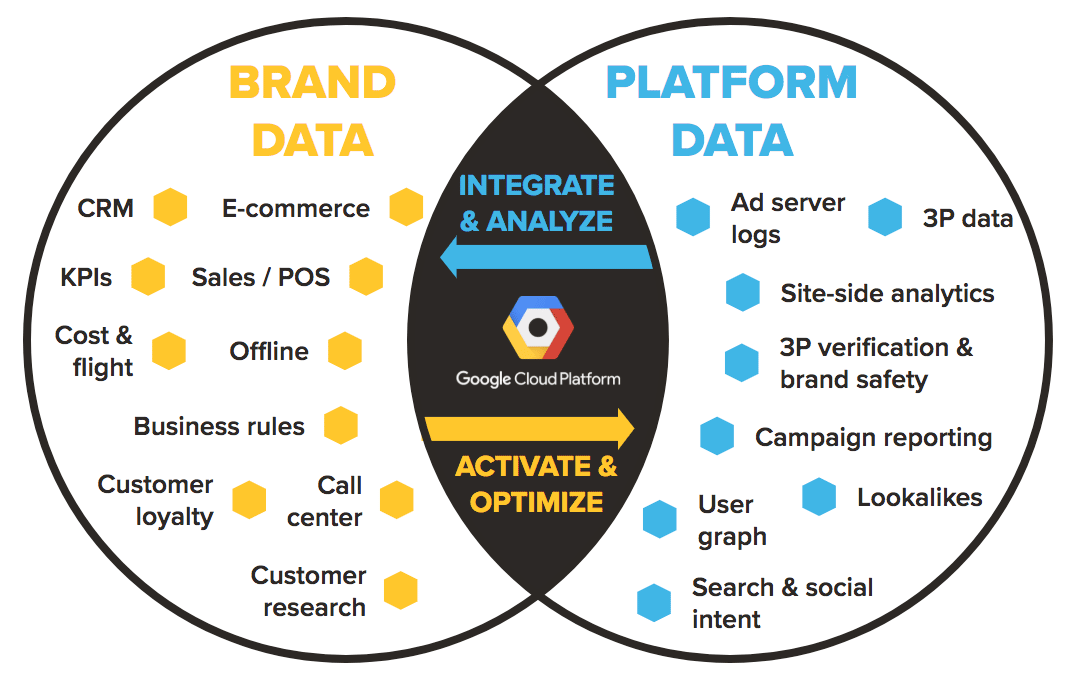 Google Cloud Platform provides infrastructure and computational power to allow Brand Data and Advertising Platform Data to inform and learn from one another.
Maintaining brand control
Developing solutions using Google Cloud Platform also confers a key strategic benefit to brands: a brand's Cloud environment is one over which they have total control. Cloud-based solutions are the exact opposite of "black boxes" that offer little or no insight in return for devouring brand data. Brands have complete transparency into the sources, uses, and targets of data in a secure environment customized to meet data governance requirements.
Key marketer use cases
MightyHive has identified four key use-cases where marketers have a need to both solve for today's challenges and build critical infrastructure to be competitive in the coming years. And we expect to learn a great deal more from our clients as we partner with them on transformative projects using Google Cloud Platform.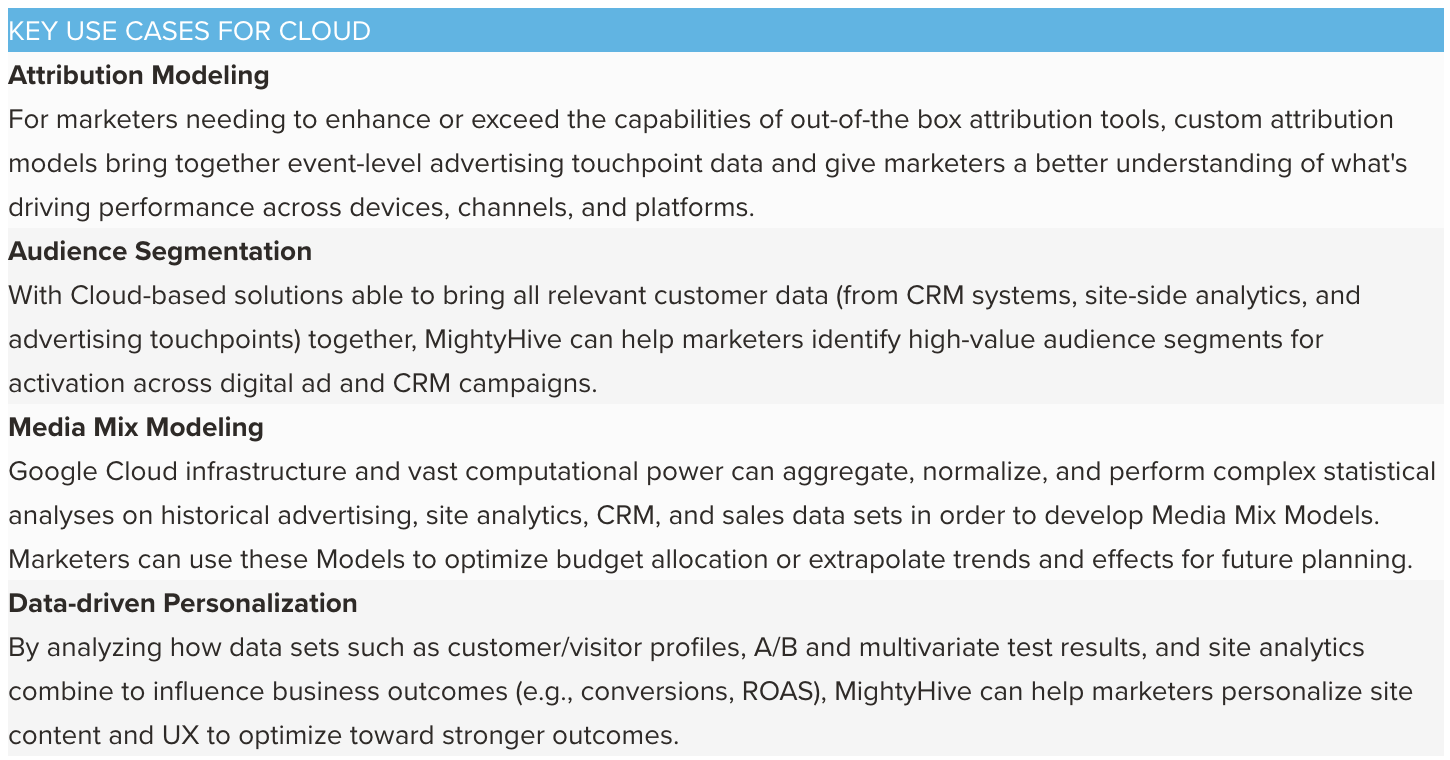 Unlocking strategic data sources
While each advertiser has its own unique data "footprint," the types of data that marketers need to unify, analyze, and activate generally fall into five categories: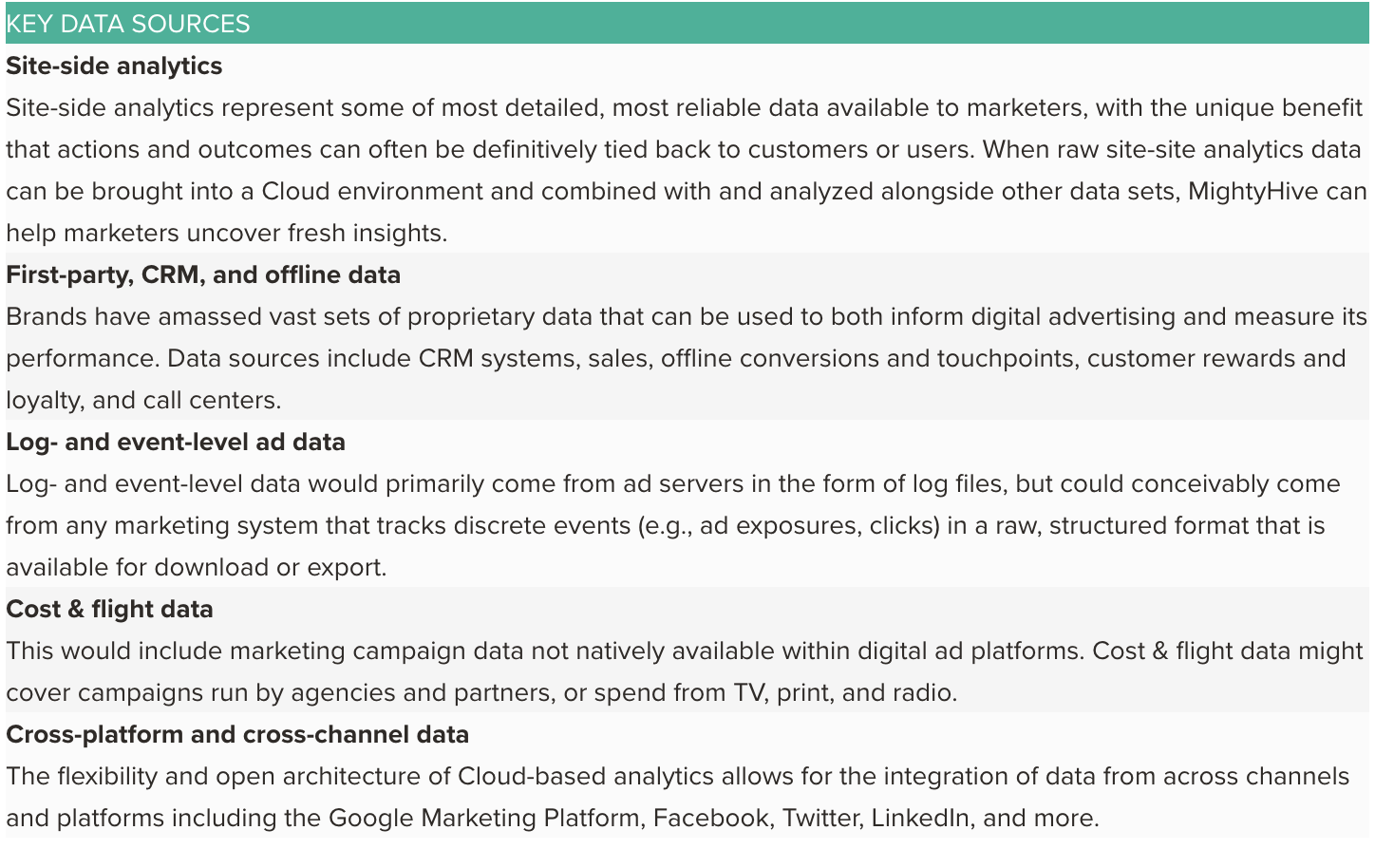 Contact us to learn more
Google Cloud Platform is a new and vital tool for solving the challenges of the world's most advanced marketers and advertisers. If your brand wants to unify data & technology and build powerful, fresh marketing insights, please contact us and we can start a conversation.
CONTACT MIGHTYHIVE
/contact-us
888-727-9742
394 Pacific Avenue, Floor 5
San Francisco, CA 94111