The New Possibilities of an ID-Redacted World
Change has come to the world of digital marketing measurement. With the redaction of DoubleClick (now Google Marketing Platform) IDs, the rollout of Google's Ads Data Hub (ADH), and growing interest in data clean room solutions, marketers must "unlearn" what was possible in the past and become rapidly familiar with what is now possible in the ID-redacted world.
The introduction of GDPR and the general global trend toward digital privacy has pushed us into a new era in the digital media world—but it doesn't appear as though some have accepted that reality just yet. It's usually true of technological disruption that we first try to retrofit old paradigms onto new technology and miss the forest for the trees. Only later do we find that there has been a complete paradigm shift and new use-cases have emerged.
We at MightyHive are finding that ADH and other emerging technologies are facilitating new and interesting ways of interacting with customer data that were not previously possible. As part of our own process of discovery and experimentation, we are learning that we need to fundamentally change the way we and our clients use data as a tool and a value generator. This learning process involves moving away from trying to measure what we no longer can and focusing more and more on how to build new utility into consumer ad experiences via connected data sets.
A Quick Primer on Ads Data Hub
First, a bit of background on what ADH does: ADH is a "data clean room" solution that allows multiple parties to analyse the intersections among respective first-party data sets, but without revealing granular row-level, user-level, or log-level data.
At MightyHive, we're discovering what's possible first-hand; working with clients to generate very new and very exciting insights from multilateral data co-ops.
As an example, Brand A could upload transaction records tied to first-party cookies. ADH lets Brand A query the intersection between its own records and ad exposures recorded by Google, but not a user level. Instead, the finest granularity at which ADH reports is about 50 individuals, which for most scaled campaigns is more than sufficient for generating insights, provided the ADH user knows how to structure the uploaded data and develop queries.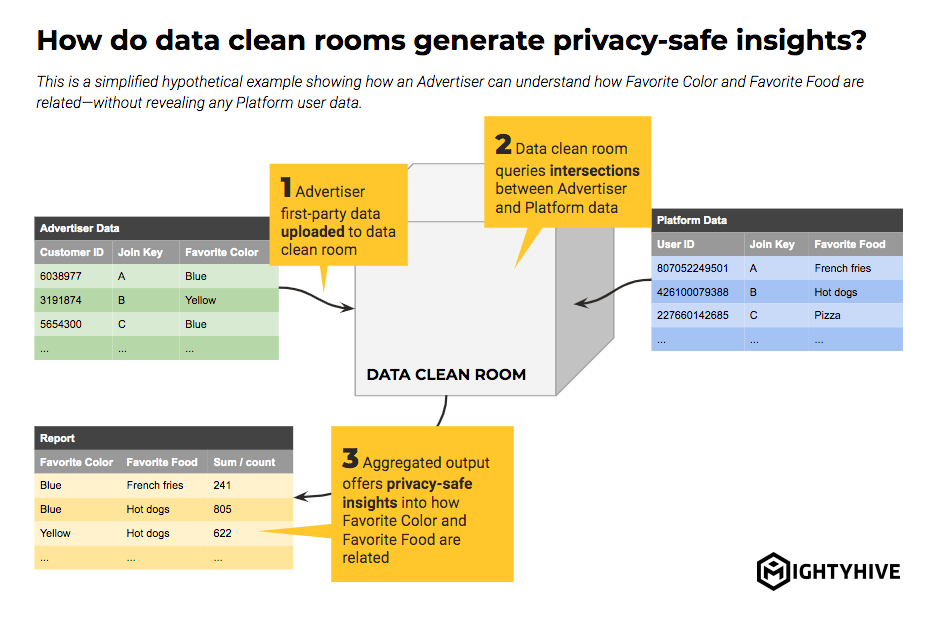 Why Ads Data Hub Solves More Problems Than it Causes
Focusing only on user-level ID redaction is myopic. Because ADH is designed as a "Switzerland for data," it solves multiple problems, which in turn creates new possibilities for marketers, platforms, partners, and publishers:
User privacy is protected. What comes out of ADH are aggregated data intersections. User-level data goes in, but it does not leave.
Intellectual property is protected. First-party data is extremely valuable. This has historically made data owners averse to letting data leave company walls. ADH solves for these commercial roadblocks by providing aggregate insights without allowing any row-level data to leave the hands of its respective owner.
ADH accommodates a multilateral set of participants and data sets. ADH is not just a Google <> advertiser or Google <> agency solution. Multiple parties can load data into ADH and analyse intersections and patterns. This essentially allows for the construction of user journeys (e.g., brand campaign → offline visit → conversion → customer loyalty) by analyzing blended data sets from multiple parties who have interacted with customers.
ADH is cloud-based. Being a cloud-based solution based in large part on Google BigQuery, ADH is extremely flexible, accessible, and scalable from a technical standpoint. It's an easy, industry-standard environment for engineering, analytics, and data science teams to plug into.
Ads Data Hub is not just a Google <> advertiser or Google <> agency solution.
How to Navigate an ID-redacted Future
ADH and other emerging data clean room solutions present the advertising ecosystem with new environments in which to ask questions of data, in many cases where data sets have never been brought together before. At MightyHive, we're seeing what's possible first-hand; working with clients to generate very new and very exciting insights.
For example, a Consumer Packaged Goods (CPG) company (ACME Dish Soap) can partner with one of their top retail channel partners (Shop-Now Supermarkets) and understanding how media spend (collected via buying platforms and ad servers) is affecting brick and mortar store sales. A data clean room can serve as a scalable and flexible environment for ACME Dish Soap to get unprecedented insight not from outdated Shop-Now Supermarkets regional sales reports, but from actual Shop-Now Supermarkets customer data and the patterns that emerge when compared with Google advertising data.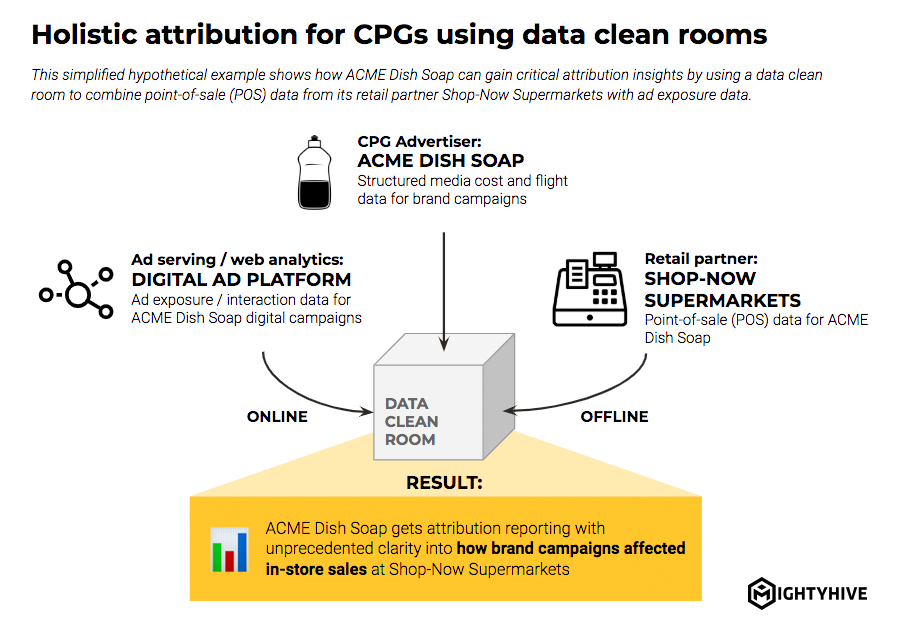 In the right hands, the value of being able to connect marketing activity to a holistic universe of data sets and business outcomes far surpasses the past value of terabytes of user-level log files. Marketers, agencies, and partners just need to learn how to use the new tools they have at their disposal and adapt campaign, media, and brand strategy to new insights and principles.
The industry needs to do a lot of catching up. Marketers, agencies, and partners are going to need to become more familiar with the technical particulars of data joins and sophisticated database queries that can't always rely on user-level IDs as a "crutch."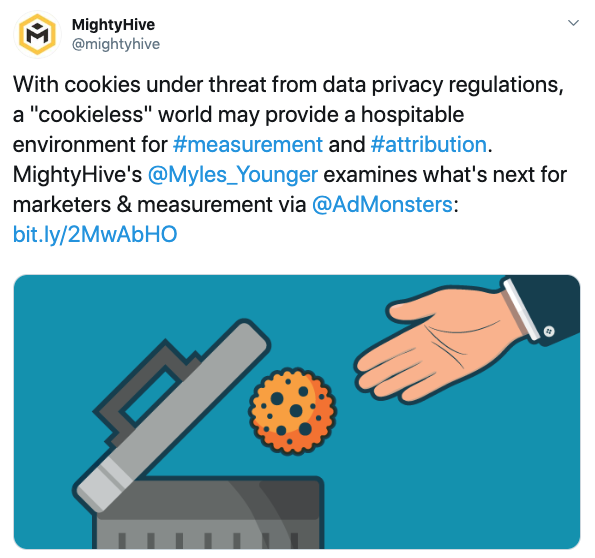 Like any data-driven solution, "garbage in, garbage out" (GIGO) very much applies here. In order to get the full value of Ads Data Hub or other data clean rooms, many brands will finally need to adopt some sort of first-party universal customer identifier that makes data useful in a data clean room environment.
Lastly, when a solution like ADH can tie media exposures, owned interactions, and sales revenue together to create a more customer-centric and holistic view, the value of popular proxy metrics (which were already questionable) like reach or CTR are bound to decline rapidly, forcing many a campaign to be completely re-evaluated.
Let's Talk
If you have questions on Ads Data Hub, ID redactions, GDPR and digital privacy, or next-generation measurement and analytics, please reach out to us at questions@mightyhive.com. We're excited about these new possibilities and we think you should be too.
Get the Slide Deck and Video that Explain Data Clean Rooms
Marketers need practical solutions to preserve measurement and insights in a privacy-first era. Get an overview of data clean rooms that are available now (e.g., Ads Data Hub) as well as what might be coming next.
CONTACT MIGHTYHIVE
/contact-us
888-727-9742
394 Pacific Avenue, Floor 5
San Francisco, CA 94111