The Search is on: Search as a Tool for Brand Building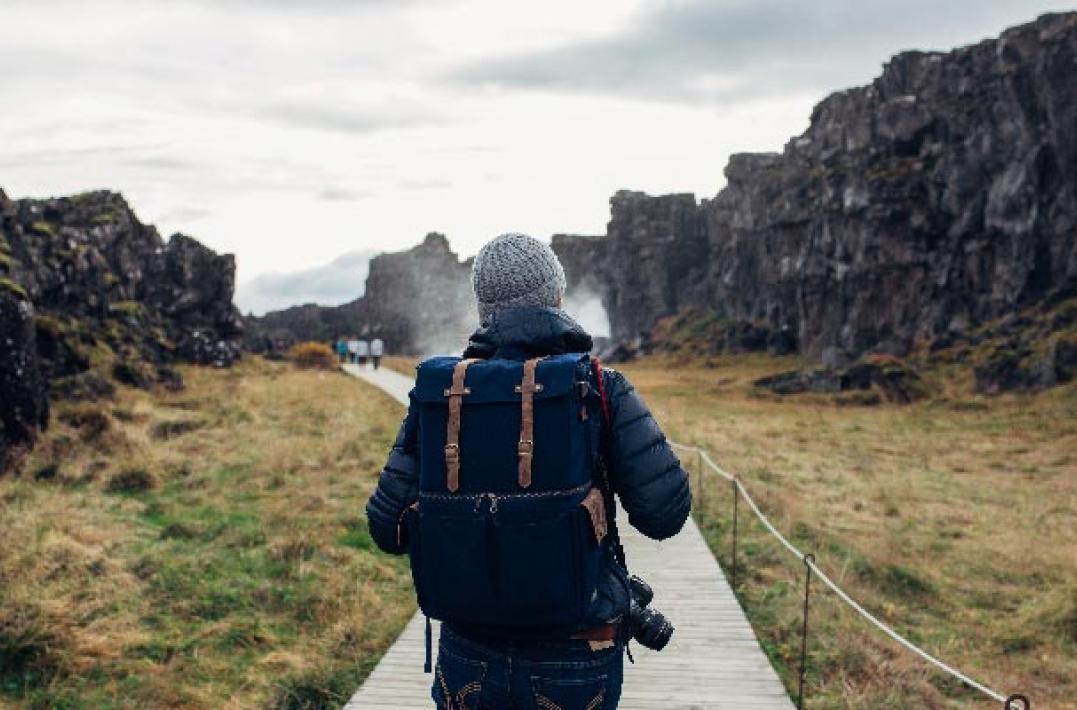 Historically, search engine marketing has been considered a tactic for driving lower-funnel performance, but marketers often overlook search when it comes to brand marketing. Smart marketers know that a well-constructed search campaign can create and support brand building in addition to driving lower-funnel KPIs like clicks and conversions.
Here are some guidelines to help you create a powerful campaign that will work harder for your brand.
Brand vs. Search Generic Campaigns Explained
Search campaigns can typically be categorised as brand (containing brand-specific keywords), or generic (keywords not containing a brand name). While the purpose of a generic campaign is to raise awareness, a brand campaign nudges the user down the funnel towards a conversion.

Bidding on Your Brand Keywords
Users show a high level of organic intent when searching for specific brand names. Despite this, campaigns should not rely solely on organic results and exclude brand search terms. In fact, brand searches provide enhanced opportunities for advertisers, and the benefits can far outweigh the incremental Cost Per Click.
Let's look at an example. Myles, our hypothetical shopper, is interested in getting his wife a new backpack, and he's heard good things about Herschel. He goes to his search engine of choice, and types "Herschel backpack."

A budget-savvy advertiser might argue that organic results from Myles' search are adequate to encourage conversions, and consequently, no further budget should be allocated to bid on brand keywords. However, there are benefits to bidding on brand keywords:
Controlling search engine results page (SERP) real estate
Leveraging a high Quality Score for brand search terms
Brand consistency in multi-channel campaigns
Controlling Search Engine Results Page (SERP) Real Estate
Significant Search Engine Results Page (SERP) real estate is a benefit of combined organic and paid results. SERP placement is best achieved when advertisers bid on their own brand keywords. The investment ensures that prime real estate on the results page (the top positions) is dominated by the searched brand, with less opportunity for competitors to win impressions.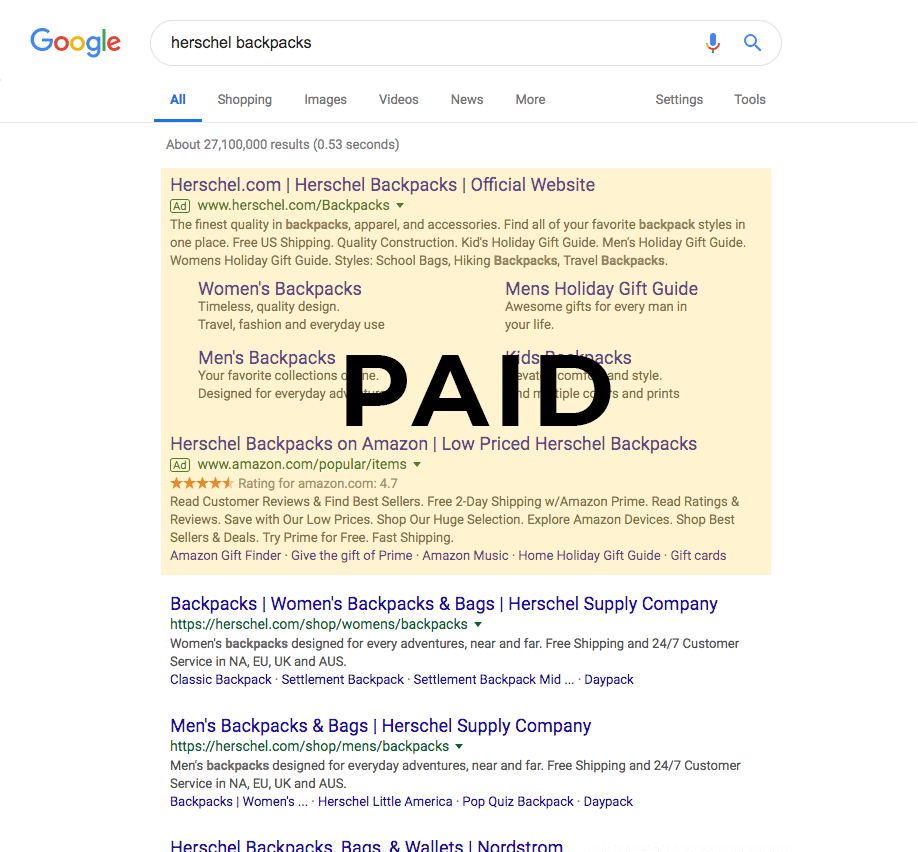 Leveraging a High Quality Score for Brand Search Terms
Due to the positive impact of site content relevancy and ad copy on the Quality Score, brand keywords will always win bids over competitors, and will tend to be less expensive due to the high Quality Score.
Despite these benefits, there are some instances in which brand search terms do not require paid investment. For example, if Myles searches "Herschel backpack reviews," indicating he is in the research phase, a brand keyword bid would be crucial to ensure he doesn't click on a competitor's ad. However, if Myles searches "where to buy Herschel backpacks," his granular search term indicates he is lower in the funnel and well on his way to conversion. Organic results should suffice in this case.
Hot tip: Optimising a brand campaign in this way can be done by negatively targeting lower funnel brand keywords, or by lowering the max CPCs on these high-converting search terms.
Maintaining Brand Equity Through Paid Search
Search is one of the most creatively restrictive mediums for brand messaging. Search forces advertisers to support their brand without the aid of visual cues such as colour palette, logos, or imagery. Without visual identity, the only levers left to pull are the brand name, and the verbal tone & messaging (which is further limited by a strict character count).
When crafting your search campaign, it is imperative to adapt brand messaging to work in a search engine environment. Creating a compelling search ad requires far more thought than cutting existing taglines to fit character limits. Maintaining consistency between keywords and ad copy is crucial. The tone of the ad copy should mirror the tone of the brand and resonate with the correct purchase funnel stage.
Brand Consistency in Multi-Channel Campaigns
Consistency across an integrated brand experience from above-the-line mediums to SEM is important for brand recognition in a competitive environment. If an advertiser is running a holiday promotion, for example, it's a best practice to mirror that message in search results. This could require sending the user to a promotional landing page instead of the site homepage.
In our backpack example, let's assume Herschel is running a 20% off holiday promotion, which Myles learns about offline. In this case, if Myles searches for "Herschel backpack promotion," organic results could lead him to the Herschel homepage, not the holiday deal landing page.
Using paid search, Herschel can push Myles from the middle to lower funnel using consistent promotional messaging and granular sitelinks. Paid search ads that mirror landing page and offline promo messaging give the advertiser more control to show the promotion.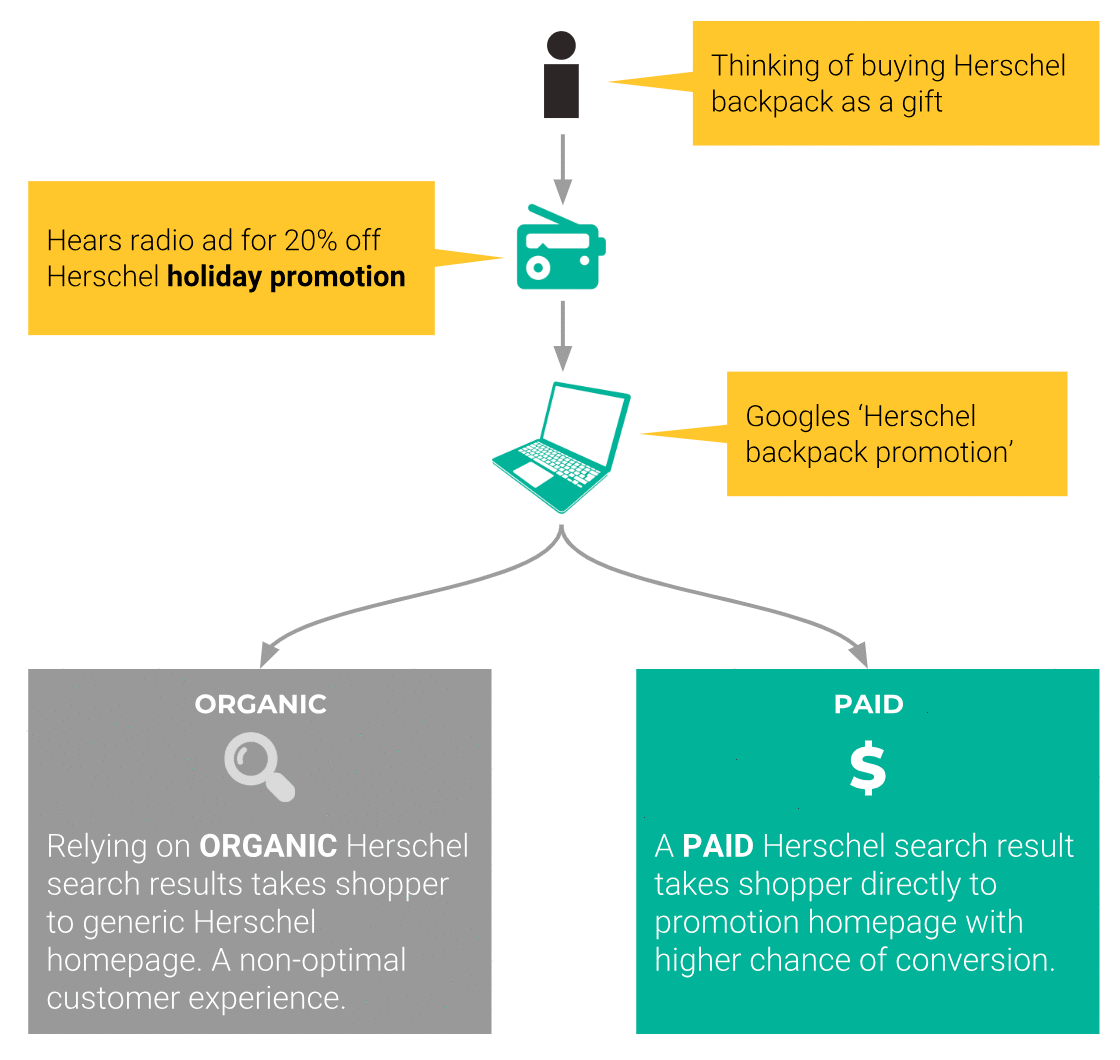 Now We're Talking!
Investing in paid search for brand campaigns can be extremely powerful. Using a strategy that optimises towards your brand KPIs and funnel stage-specific messaging, branded keyword bids can raise brand awareness and push customers from research to conversion. Now it's time to consider: what can search do for your brand?
CONTACT MIGHTYHIVE
/contact-us
888-727-9742
394 Pacific Avenue, Floor 5
San Francisco, CA 94111