Attribution Solutions: Where to Start When Digital Metrics Fall Short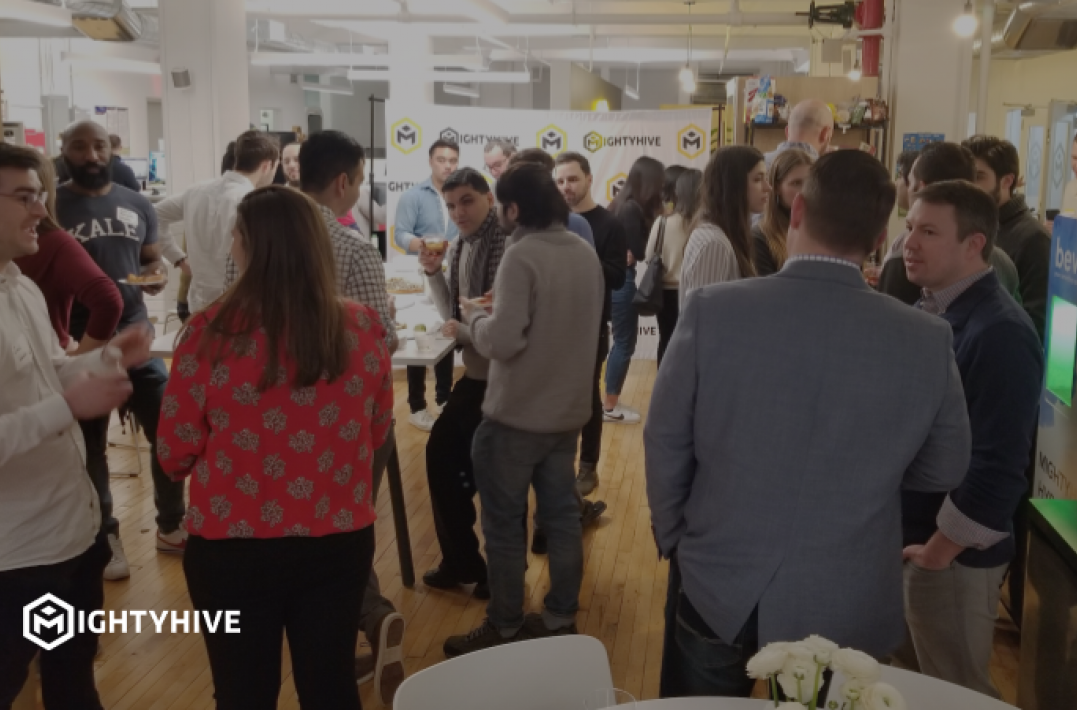 "It's important for us to help our clients build the framework to identify how their KPIs tie back to their marketing and business objectives."

- Cullen Urbano, Enterprise Consulting Lead, MightyHive
Attribution is an integral component of any successful marketing plan. But where should marketers start with attribution modeling, and what happens when digital metrics fall short? On January 17, practitioners from across the industry met at MightyHive NYC over pizza and drinks for a deep dive into the triumphs and challenges of digital analytics, and where advertisers often go wrong.
Rachel Adams, MightyHive's Director of Accounts, moderated a panel entitled Attribution Solutions: How to be a Hero when Attribution Models Fall Short. On the dais for the evening were Ben Rudolph and Emma Tessier, both MightyHive Project Leads, as well as Cullen Urbano, an Enterprise Consulting Lead at MightyHive. Ben, Emma, and Cullen drew on their experience with clients and their in depth industry knowledge to provide a well-rounded perspective about the best strategies for attribution modeling.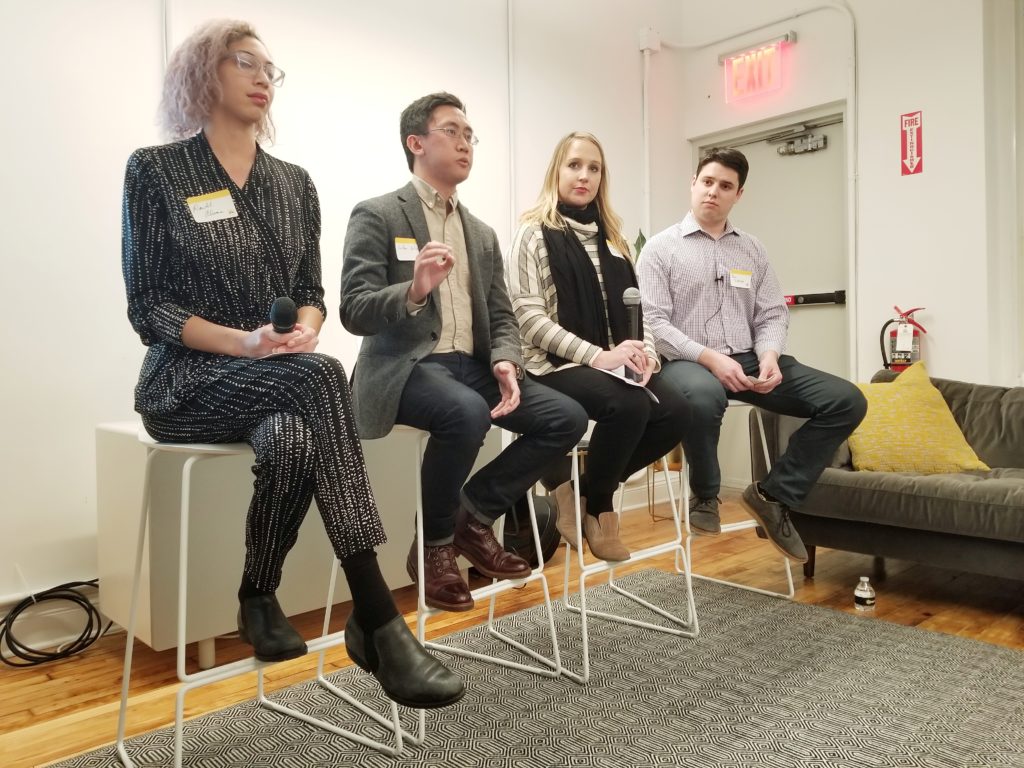 We Are Gathered Here Today...
Attribution is a hot topic. The MightyHive office was packed with people who voluntarily passed up a night of binge watching Netflix to talk about it. But what makes attribution so challenging for advertisers in the first place?
Tech Companies Aren't Great at Sharing
Our panelists all cited tech limitations and walled gardens as major factors that make it tricky to figure out how marketers should optimize their media spend. As Ben pointed out, "In the ecosystem a lot of players want to demonstrate their specific value, so they put up walls and are unwilling to share data that will give marketers a more complete picture." He continued, "There's also no north star for advertisers to look to that isn't last-touch, so it can feel risky or intimidating to look at different models."
Also, Robots Aren't Perfect
Another often-overlooked factor when dealing with high-tech, automated solutions is human oversight. Cullen stressed the importance of evaluating every model with a human gut-check. "If you do that, you can avoid instances where an MTA model might recommend a mass reach partner with sub-20% viewability and +30% frequency."
Rachel echoed: "Even though all the decisions we make are highly data-driven, at the end of the day there's an element of 'does this feel right?' Does something seem off? Are these impressions even viewable? Is there an instance of fraud? Are we utilizing all of the verification tools we have at our disposal, etcetera, that only a human can evaluate."  
But Humans Aren't Perfect Either
However, before even talking tech, all agreed that marketers need clearly defined KPIs and a full view of business objectives before they can tackle attribution modeling. Emma noted, "So many clients freeze when you ask, but they need to understand their KPIs and the platforms they're running across. Someone who understands multi-touch attribution realizes the need to address the full funnel, whereas someone who's not as intimately exposed might think it makes sense to allocate budget to last-touch because that's what they see as driving conversions. They don't understand how different touchpoints work together."
Cullen and Emma both pointed out a common problem: clients who optimize towards the wrong goal. For example, if an advertiser makes most of its sales offline, they may be better served by optimizing for top funnel brand awareness than web traffic.
Attribution Challenges IRL
When asked about interesting attribution problems they've helped clients crack, Ben referenced a client with the "pragmatic goal of trying to be less wrong." This comment elicited a chuckle from the audience, but he continued, "It's a great way to think about attribution because there's never really an end-state. This client wanted to move away from last-touch, so we shifted to a fractional model which was very successful for them." Although the fractional model helped the client optimize budget, it's still an iterative process as the ecosystem and consumer behavior are constantly in flux.
Cullen and Emma both pointed out a common problem: clients who optimize towards the wrong goal. For example, if an advertiser makes most of its sales offline, they may be better served by optimizing for top funnel brand awareness than web traffic.
Similarly, Emma recently worked with a client who was focused on brand awareness, but stated KPIs as ROI and sales. Emma guided the client towards an MTA model that incorporated offline and third-party vendor data to create a less biased full view across channels.
There's Hope Yet
Though tech limitations and walled gardens can present roadblocks for marketers, tools like Amazon Attribution, Google Analytics 360, and tech stacks that move away from proxy metrics are a step in the right direction for advertisers trying to marry disparate data sources.
MightyHive is Up to the Task
The MightyHive team, well-versed in Salesforce and Amazon Advertising solutions and globally certified across the Google Marketing Platform and Google Cloud, is uniquely qualified to help marketers solve complex attribution challenges. In fact, when asked what's most exciting about working at MightyHive, the panelists all indicated that they love tackling new and interesting problems.
"We're in a new frontier where we get to come up with processes to help companies figure out problems no one else is helping them solve."

- Emma Tessier, Project Lead, MightyHive
"One Size Fits All" Isn't MightyHive's Thing
One such problem, which Cullen and the MightyHive consulting team recently addressed, was working to onboard a client's first-party data to make it available to different attribution systems. While the most straightforward answer was to use an onboarding partner, sometimes that can yield match rates below 30-40%, which makes it difficult for advertisers to glean useful insights.
"We did some interesting things where we combined several approaches," Cullen described. "We started with an onboarding partner, and for unmatched records, we used third-party and DMP data to model out lookalike audiences. We also included second-party data partnerships, and rounded them out by amplifying first-party login info, married to offline data where possible." Using this strategy, the team was able to produce much more indicative results, giving the advertiser a 70-80% match rate.  
We're Hiring... Big Time
If learning about new ways to approach complex digital analytics challenges excites you, MightyHive is hiring around the globe! Check out our careers page to learn more.   
CONTACT MIGHTYHIVE
/contact-us
888-727-9742
394 Pacific Avenue, Floor 5
San Francisco, CA 94111