How MightyHive & MediaMonks Helped Ace Hardware Become the Helpful Digital Place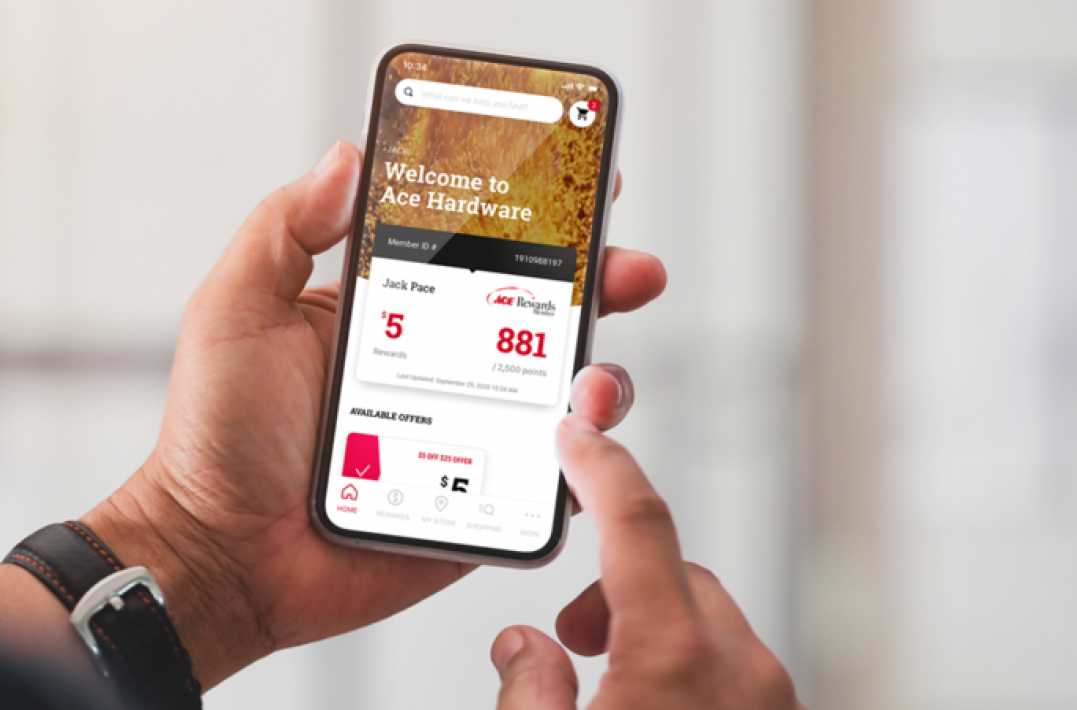 As retail digitalization trends have accelerated at breakneck pace, today's customers expect a seamless omni-channel experience. They may start product exploration minutes, hours, or days before a digital or in-store purchase, switching between app, web, and devices as they do so. Or, an online purchase may lead to impulse "attachment sales" when a customer visits a store for pickup. If the experience is clunky, it's difficult to build loyalty. But if the experience is smooth and hyper-relevant, customers will become the brand's best advocates and keep coming back.
When Ace Hardware began working with MightyHive and MediaMonks to rebuild their app experience, loyalty and personalization were top-of-mind. As the world's largest hardware retail cooperative, with more than 5,300 independently owned and operated stores in over 70 countries, Ace Hardware (known as "The Helpful Place"), prides itself on superior customer experience. However, its web analytics setup and webview app were not built to deliver the exceptional digital experience that would extend its outstanding in-store reputation to online or omni-channel shoppers.
Keeping the Customer Front and Center
One of the most important parts of this project was working with our MediaMonks friends to ensure that not only was the app beautiful and super user-friendly, it also collected the right data at the right time that would feed back into Ace Hardware's advertising and loyalty programs. Keeping customer experience at the forefront allowed MightyHive to map out holistic data collection points. This gave Ace Hardware the right data to meet aggressive short-term goals, while strategically collecting data — like home type and home characteristics — for highly-relevant personalization down the line.
Webinar: How Ace Hardware is connecting Offline Data to Online Marketing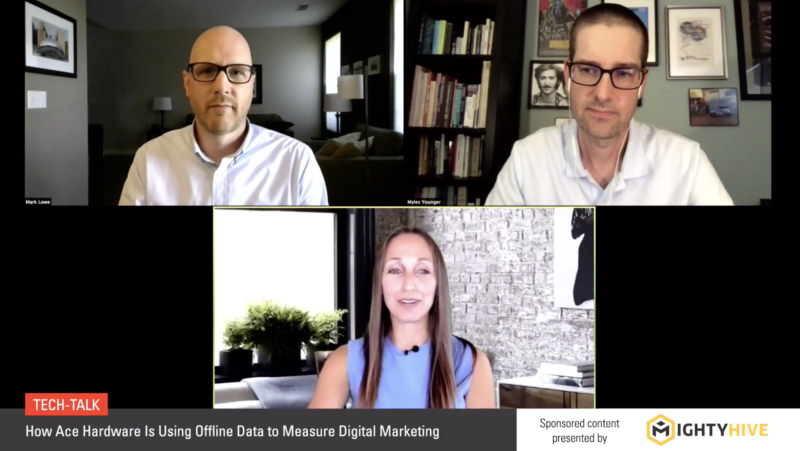 Watch the eMarketer Tech Talk Webinar featuring Ace Hardware and MightyHive to learn more about Ace Hardware is using first-party data to connect offline sources to digital performance.
Better, Faster, Cheaper
Working closely with MediaMonks, customers now enjoy a gorgeous and seamless app experience, as well as more relevant ads and offers. As for our clients, selecting S4Capital as a partner also pays dividends since MightyHive is able to work in lock-step with MediaMonks–sans red tape and bureaucracy–to expedite the app build, design, and analytics setup. This means a more cohesive, much faster, and significantly less expensive project for Ace Hardware.

S4Capital: Building Digital Solutions for the Future
With app user touchpoints, data collection framework, and front-end design in place and tested, MightyHive used Google Analytics 4, (formerly App + Web, check out our GA4 explainer here) to seamlessly integrate analytics data from the app, built on Firebase, with the newly-built web analytics configuration. This allowed Ace Hardware to develop a full view of the end-to-end customer journey across web, app, and in-store. Not only can the Ace team now optimize quickly and efficiently to meet current KPIs, this future-proof app analytics setup eliminates the need for costly and time consuming app re-builds as business needs shift.
"MightyHive and MediaMonks delivered an outstanding work product quickly and efficiently that not only addressed our project KPIs, but went above and beyond to anticipate our future needs. We've been consistently impressed with both teams' strategic and technical expertise, professionalism, and passion.

— Deanna Hernandez, Sr. Ace App Manager, Ace Rewards & Analytics, Ace Hardware
Working in concert, MightyHive and MediaMonks saved hundreds of developer hours and delivered a closed-loop analytics system across the brand's digital and physical touchpoints from day one. In only three months, MightyHive and MediaMonks delivered an industry-leading app with a best-in-class user experience and an analytics framework that immediately gave the client actionable data without the need to analyze server-level data, app logs, or unreliable proxy metrics. In only seven months Ace Hardware generated over one million app installs, over 150k new rewards accounts, and $30 million in omni-channel revenue.
The S4Capital team of experts can help you step up your game, too. Please contact us to learn more.
How MightyHive & S4Capital Helped Ace Hardware
Become the Helpful Digital Place
(click to read the full case study)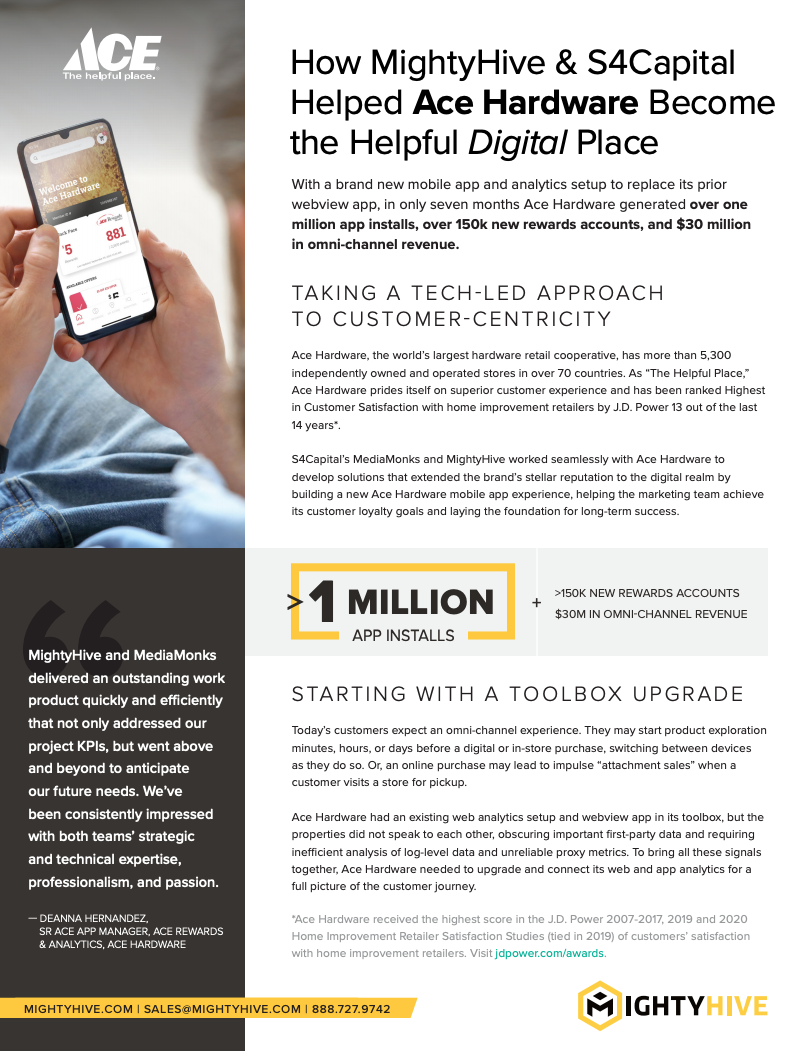 CONTACT MIGHTYHIVE
/contact-us
888-727-9742
394 Pacific Avenue, Floor 5
San Francisco, CA 94111