Managing COVID-19 Brand Safety in Amazon DSP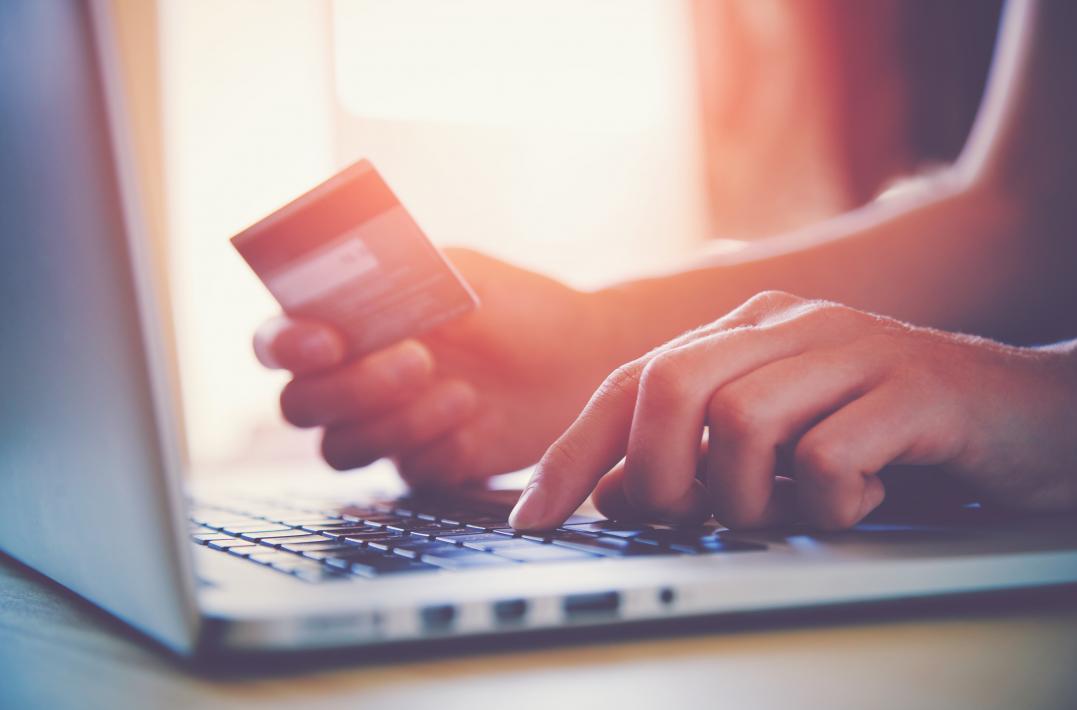 In the fourth part of our series about how advertisers can ensure brand safety while still supporting reputable publishers during the global pandemic, we are sharing best practices for several major programmatic buying platforms. 
As one of the fastest-growing DSPs, Amazon DSP specializes in exclusive first-party audience data sets and unique owned and operated web and advanced TV properties, alongside robust brand safety safeguards. Through a quick two-step process, advertisers can ensure their campaigns avoid risky sites and content that can be particularly hard to avoid during a global crisis, when the volume of breaking news and misinformation challenges even the savviest advertisers. 
Step 1: Site/App Whitelist in Amazon DSP
Advertisers with a list of trusted partners and properties should turn to Amazon's whitelist features first. In order to positively target domains/apps, advertisers must input a minimum of 50 domains. 
It's also worth noting that Amazon requires 50+ domains in consideration of its private marketplace (PMP) offering, which is an alternative/parallel option for open exchange whitelists. PMPs provide higher priority access to premium inventory and are a viable alternative to secure placements with premium publishers.
Step 2: Brand Safety Targeting
Pre-bid filtering is another powerful option advertisers have in Amazon DSP to keep ads dollars away from content they deem unsuitable for their brand. Once an advertiser has selected the properties on which ads will appear, pre-bid filtering provides another layer of security around the specific content categories the brand will appear next to. Amazon has a robust mix of third-party brand safety integrations including:

DoubleVerify
Web content category exclusion; authentic brand safety (custom brand safety profiles that can be ingested via audience ID through DoubleVerify's platform)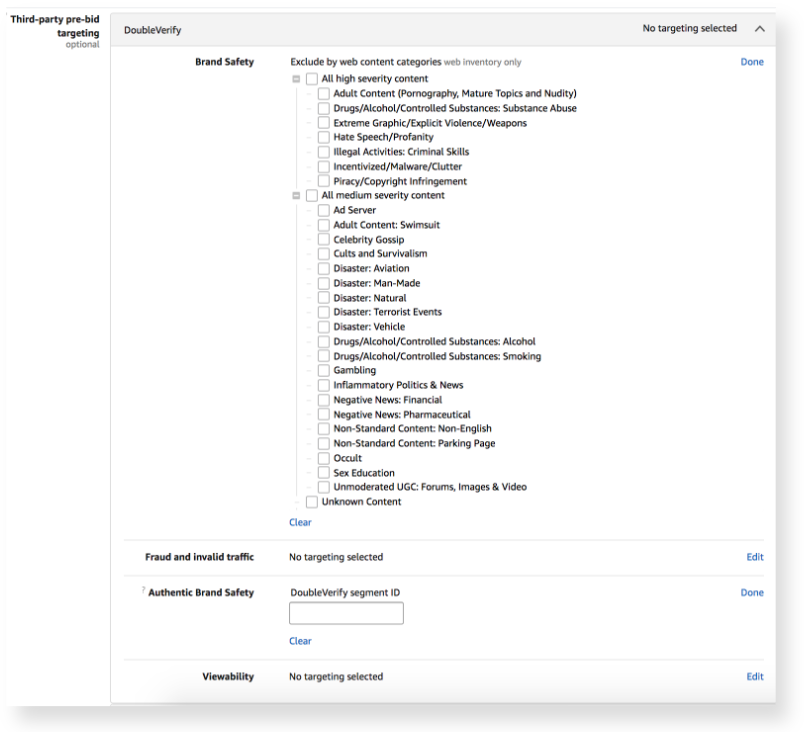 Oracle Data Cloud
Custom Grapeshot segments determined by brand safety controls in the Oracle Data Cloud Context UI

Integral Ad Science
Web content category exclusion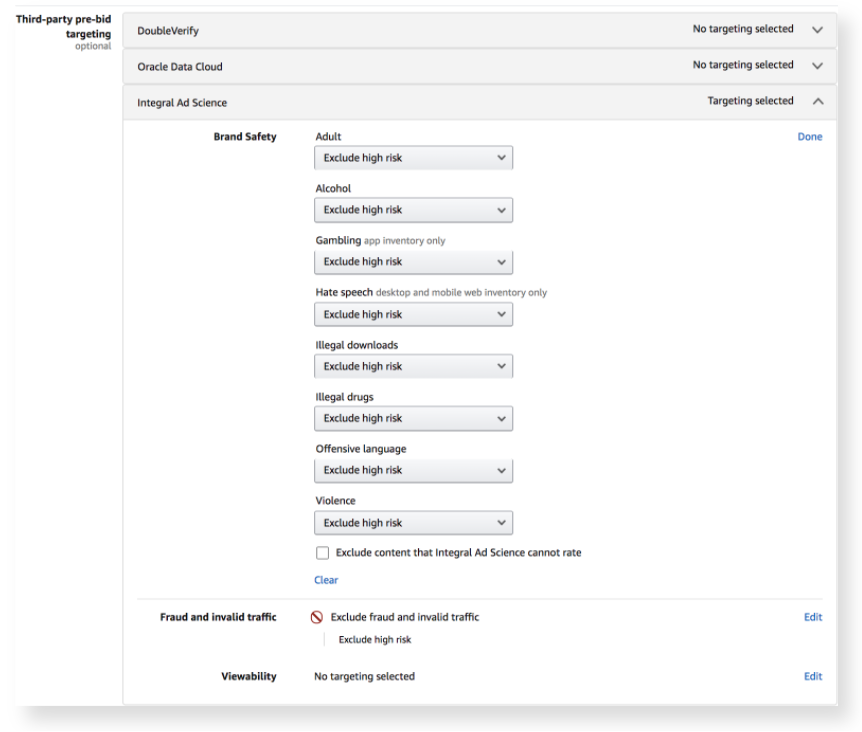 NOTE: All third-party verification is currently free for advertisers, which is a unique benefit in comparison to other demand-side platforms
Over-The-Top (OTT) targeting
Content ratings and genres: With advanced TV offering, Amazon DSP allows advertisers to select the ratings and genres of the content ads will be placed on, allowing a level of granularity that can protect spend and improve control.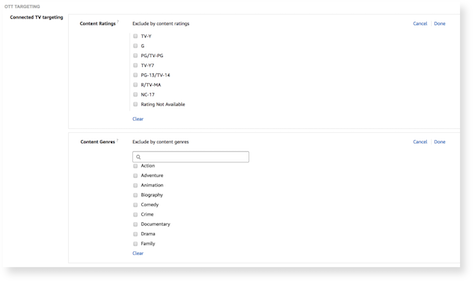 In addition to these capabilities, Amazon enables its own safeguards to monitor and review third-party sites and apps for unsafe content. If a third-party site or app is identified as unsafe, it is blocked from advertising.
In Conclusion
We know brand safety is highly subjective and mission critical at a time like this. We hope this guide can provide a quick review of steps you can take, or ensure your partners are taking, to make sure your ad dollars are reaching users and supporting the content you deem appropriate. 
MightyHive clients can reach out to their account teams for more guidance on how to implement these tactics within campaigns. If you're not already a MightyHive client, contact us. We'd love to talk. If you're not familiar with Amazon DSP yet, read our explainer here.
Check out our full brand safety series here:
CONTACT MIGHTYHIVE
/contact-us
888-727-9742
394 Pacific Avenue, Floor 5
San Francisco, CA 94111